Several weeks ago, Ethan's school planned a class field trip to visit two heritage buildings/sites in Penang.  And since I myself have not visited those places before, I asked for permission from his teacher for me to tag along, with the primary reason of snapping some pictures 🙂
The two places that the class visited was the Cheong Fatt Tze mansion on Leith Street, and Chew Jetty at Weld Quay.
The kids were ferried around in a bus while I drove to the sites on my own.  Apparently, a few other mothers were tagging along that day too, some for reasons unknown to me.
Photography was not allowed in the mansion itself, so I could only take a few outside before we went in…well actually, I did snap some pictures inside, but with my iPhone (read: quiet and small) 🙂
The image of the stately blue mansion against the beautiful blue sky that day was breathtaking.  It was my first time there, even though I had been staying in Penang for more than 10 years now.
…and no…I am not obsessed with taking pictures of trishaws 😛
A peek into the living room where all the kids were being given an introductory explanation by the tour guide, Aunty Pauline, before the start of the tour of the mansion:
More amazing architecture from within the mansion's walls:
After the mansion tour: a handful of the kids posing for a group photo…they actually look very hungry, don't they?
Well, I suppose the kids had their snacks on the bus on the way to the next stop, Chew Jetty, because when they arrived, they were all full of energy!
It was truly an eye-opening experience for the kids and also for me…They got to see how some people lived in houses on stilts above water, and the different type of lifestyle they led.  Ethan even got to "check out" a toilet that would "automatically flush" into the sea!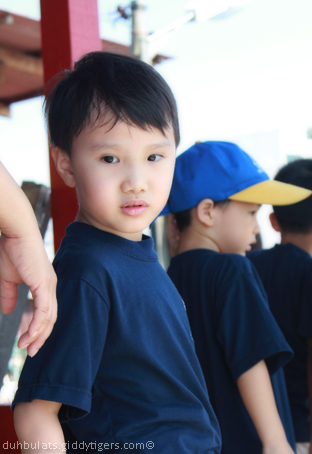 The kids got first-hand experience walking through a house built on stilts, and through the floor boards, they could see the sea water below!
Some kids were afraid and had to conquer their fear by walking carefully on the wooden planks.
I was amazed at how LONG these stilt houses were!
At the end of the long walk across the house on wooden stilts, everyone was rewarded with a beautiful view of the sea.
A very fruitful trip for everyone, kids and parents and teachers alike.  I'm sure there will be many memories to remember the trip by.