Alrighty then…I'm continuing the recap of our Singapore trip last December.  Sorry, been a long while and it has been in the back burner.  But I haven't totally forgotten about it…
Anyways…
On Day 4 of our trip, we were scheduled to travel from Traders Hotel near Orchard Rd to Sentosa Island.  We managed to squeeze in a wee bit of time in the morning to have brunch at Food Opera at ION Orchard, which is a food court.
Hannah's favorite food while in Singapore: fish balls!!
We took the hotel shuttle to Orchard Rd, but since the timing was not convenient for the "going back", we decided to take a walk back to the hotel.
The stroll turned out to be a really really vigorous brisk walk all the way back, because we had to make it back by 1:00p.m. for checkout.  Coupled with the fact that I virtually carried Hannah all the way back, you can imagine how tired my legs were at that point (all ready for a massage if I had the opportunity to).
In view of convenience, we decided to take a cab to Sentosa direct from the hotel, which turned out to be a really good idea, because we made it there in no time at all, and the cab fare was very reasonable too!
Because we were still a little early for checking in, we decided to leave our bags at the concierge till check-in time.  Here are some pictures of the kids, while waiting for me as I was talking to the hotel reception folks.
We then decided to walked around a bit.  Actually, we kinda wanted to tire the kids out so they would take a nap afterward.
That plan backfired big time of course.
I think everybody who goes to Sentosa will have pictures from the candy store there.  How could we not?  Everything looks so pretty!
So like I said before, our plan to tire the kids out didn't turned out as planned.  The moment we checked in, the kids went absolutely crazy over the hotel room.  We had booked a room in Festive Hotel Sentosa, which was the most family-oriented hotel of the 3 hotels in Resorts World.  I had also specifically booked a room with a loft bed, for Ethan.
And I am so glad I did.
His eyes lit up with amazement and delight as soon as he saw the loft bed and he climbed up almost immediately.  The loft bed is a bed area built about 7 or 8 feet high.  It's very safe and has side barriers and cushioned wall panels, specifically catered for kids.  Well, Ethan would be sleeping on the loft bed, but Hannah would still be sleeping with us on our king-size bed.
Later, he told us, "Mommy, this is the BEST hotel in the world!!"
Obviously the kids did not take a nap at all. 😛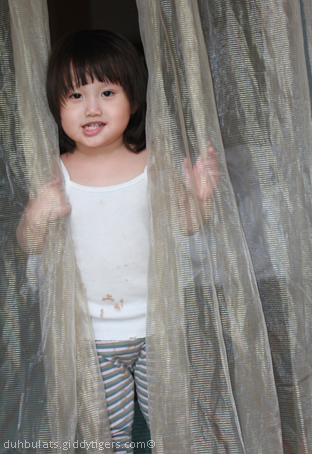 We ended the day by taking the Sentosa Express train to Vivo City to have dinner at Marché.  A very welcome treat for us and it was also something we had been looking forward to, since our last Singapore visit about 4 years back.
Still the same ol' delicious food, with excellent company 🙂
We took a short walk around the HarbourFront Walk near Marché before heading back to the island.
It was already pretty late when we arrived back at Sentosa island after dinner, but we couldn't resist taking a night stroll together.  The kids wanted to run in the mist near the Universal Studios globe.  Well, if you look really carefully, you might catch a glimpse of them in the mist.
Back at the hotel, the kids showered and tried on their kiddie bathrobes and slippers, also provided by the hotel for the kids.  Don't they both look absolutely huggable? 🙂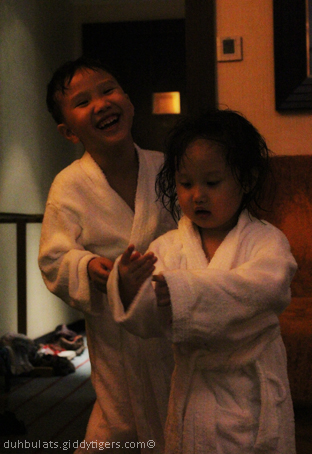 We then retired for the night (yes, Ethan enjoying his loft bed), and we all HOPED we could get up early for our adventure the following day! 🙂
*****
Previously: Day 3 Singapore Getaway: Singapore Zoo & Chicken Rice Dinner