Ethan and his schoolmates recently had a field trip to visit the Saanen Dairy Goat Farm in Balik Pulau here in Penang.  Since I could make it, I decided to tag along, along with a handful of other moms.
The trip to Balik Pulau took about an hour, and when we finally parked, we had to walk for about 15-20 minutes through kampung-style roads leading to the farm.
Once we'd arrived, the kids had their snacks and then we proceeded to the stable/barn where the goats are kept.  These were Saanen goats, and according to the caretaker of the farm, they originate from Switzerland, and they are what we know as the mountain goats.  How they survive in our hot Malaysian weather is totally beyond me!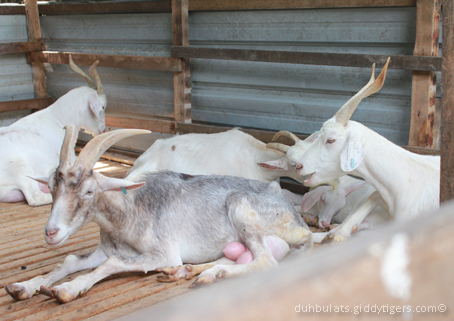 We were provided with shoots of Napier grass to feed the goats with.  Some goats tugged and pulled at the grass while others chewed and chomped gently.
Ethan had a blast and kept asking for more grass when he ran out of the ones he fed the goats with.
Here's a picture I took of a majestic looking Saanen goat.  Looks like the leader of the herd!
The kids also had the opportunity to watch the goats being milked.  The milking process is performed using a mechanical/electrical pump, while the goats are busy *snacking*
The kids even got to sample some fresh goats' milk too!  Here's Ethan cooling down in front of a huge fan at the farm.
The trip was really fun and I'm sure everyone learnt many things.  We even got to see a gigantic spider perched on its spider web while walking back.  Not your typical city scene, I'm sure.