Whenever I serve noodles or koay teow at home, Hannah will request to eat with a pair of chopsticks.  We only have one pair of training chopsticks though, so sometimes she needs to compromise with her brother; but thank goodness her brother is usually very accommodating, and she gets to train with the chopsticks.
I'll have to say Hannah is doing pretty well for a three-year-old!  She can finish her bowl of koay teow by using that pair of chopsticks.
First, grab some koay teow with the chopsticks:
Then, place carefully onto spoon…careful there with the coordination ;P …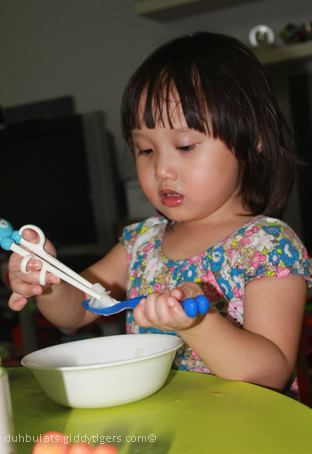 Lastly, the easiest part: place spoonful of koay teow into mouth!