When life gives you lemons, go make some lemonade, so the saying goes.  And when life gives you snow, you smile, and make work seem like play!
Last Saturday morning, we awoke to a blanket of snow covering the landscape.  The weather forecast had been true to the dot and it had snowed through the night.  In fact, it was still snowing in the morning, and inevitably, our car was also covered with snow.
It was a good thing though that Pete had switched our initial minivan to a medium-sized car, so there wasn't so much snow to clear off the car, but Ethan and Hannah were only more than willing to help!  It was a brand new experience for them, and c'mon, which kid would pass on an opportunity to play with snow?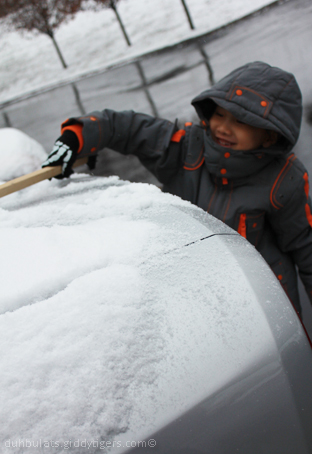 The snow has all melted since that day, and the weather is slightly warmer now (i.e. 10-12ºC), however we have been told by the locals that it typically does not snow till January.  Would we be looking at colder days and nights ahead?  Would the kids have enough snow for a snowman?  Will we be having a white Christmas this year?
Only time will tell… 🙂