Last week, we made a quick trip to New York and back.  The primary reason for this trip was to get Emma's birth registration and Malaysian passport done at the Consulate General of Malaysia.  Previously for Hannah's case when she was born in California, we did not need to make the trip to the Consulate General of Malaysia in LA, and we only needed to Fedex all the necessary documents.
However, now that Emma was born in the East Coast, the rules for birth registration at the Consulate General in New York were different.  Not only did the Consulate General require the baby to be physically present at the point of birth registration, submission could only be done from 9:30a.m. – 12:00noon.  Same-day collection would only be guaranteed if we submit the documentation at 9:30a.m. in the morning, so in order to comply with that and not have to wait to collect the stuff a day later, we decided to go to New York on Thursday, stay the night and then submit the registration early Friday morning.
We left a little later than planned on Thursday morning (what's new?), and while Emma was wide awake when we drove off, she fell asleep a few minutes later.
Hannah and Ethan were as excited as ever about our trip.  Here's Hannah showing you how happy she is…You would know by now who's the one who's ever willing to pose for the camera and who's just the opposite. 😛
Emma was dozing away beautifully and only woke up after we had our lunch; we stopped at Subway in Rocky Hill, Connecticut before heading on towards The Big Apple.
Traffic was unbelievably heavy on a week day, and even heavier when we arrived in NYC.  We drove straight towards the Financial District and parked our car near the Staten Island Ferry Terminal.
There wasn't a long wait thankfully, and we boarded the ferry not long after.  Emma was quite fidgety at that time, and we soon found out why: she pooped while we were on the ferry!
Pete managed to take the kids up to the deck to get a closer look at the Statue of Liberty though.  It was rather cloudy that day but the kids just loved the ferry ride.
Upon arrival at Staten Island we took the next ferry back to Manhattan.  On the return ferry, and after changing Emma, I put her in a baby sling, and took her up to the deck for about a minute or two.  She was still really restless, even though I had fed her, and even when we put her in the stroller and pushed her out from the ferry.  In fact, Emma only settled down and fell asleep in the car, as we made our way to our hotel.
Well, initially we had wanted to take a quick walk around the Financial District, but decided otherwise because it was getting late and the kids were also restlessly looking forward to checking in to the hotel.
After checking in, and resting for no more than 30 minutes, we went out for a walk around.  Our hotel was just a stone's throw away from Grand Central Station.  The historical landmark was simply breathtaking: just like a scene right out from a movie!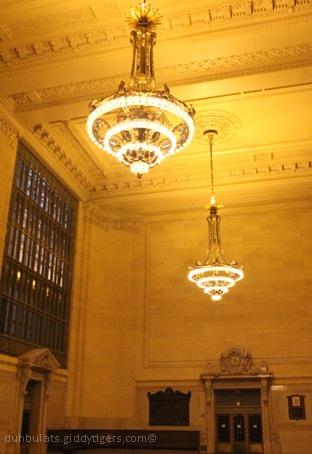 Grand Central Station was extremely crowded, and was a hubful of activity.  I'd bet it'd be a great place if you wanna indulge in people-watching!
A hastily-taken picture by the hubs…which, surprisingly, looks rather artistic 🙂
Actually all the pictures were somewhat hastily taken too, because Emma loved the stroller to be in "moving mode".  The moment we stopped pushing, she would start crying.
Well, so we then had a quick dinner and carried on with our stroll around NYC.  The hotel we stayed in was actually very close to The Chrysler Building, which bears a striking resemblance to The Empire State Building.
Pete had said Times Square was not too far away, so we decided to walk there too.  However, manoeuvring a stroller with a month-old baby, and walking with a 4-year old and 7-year old kid was no mean feat.  Thankfully our Ethan was able to independently walk on his own.  Hannah, on the other hand, would periodically complain of being tired, so we had to carry her too.
There was this big screen in Times Square which captured the scene of everyone on the street who stood in front of the screen.  Everyone in turn would then look at that screen and try to spot themselves in it.  Can you see us?  Look where the red arrow is pointing.
We then made our way back to our hotel again on foot and got ready to call it a night.  Everyone was tired out and fell asleep almost right away, but little Emma still woke up several times that night.
The following morning, we got up early and got ready to go to the Consulate General of Malaysia.  It's always nice staying in a hotel which provides breakfast, and we had a hearty one before we started walking to the Consulate.  Our hotel was located on the same street as the Consulate General, so it only took us about 5 minutes to get there.  We were second in line but everyone was busy filling up forms anyway.
I had all the documentation in place except for Emma's Malaysian passport photos.  The Consulate General of Malaysia provides passport photo taking services, so we paid $10 to get 4 passport photos for Emma.  She was asleep at that time, and we had to wake her up just for the photo.  Pete had to carry and support her neck with his arms outstretched, hence you can see his fingers just behind her head.
At the Consulate, Emma first had her Borang W done.  The Borang W is issued in lieu of the Malaysian birth certificate, and is given to those born outside of Malaysia to parents who are Malaysian citizens.  Then we also had her Malaysian international passport done.  This time round, Emma did not get an Emergency Travel Document done like Hannah,  but it was a regular 5-year international passport.  All in all, we were at the Consulate for about 2 hours and then we headed back to the hotel.
Oh, while waiting at the Consulate, Ethan and Hannah got a little restless, so Pete took them both for a walk down the street to the United Nations.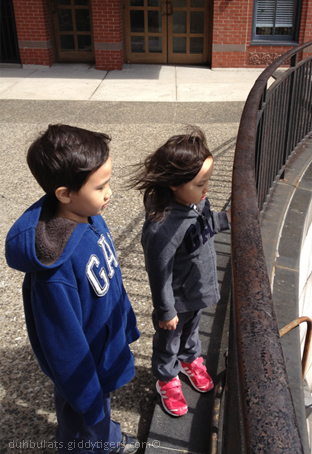 We checked out soon after and started off for home.  There was a massive traffic jam the entire journey and what could have taken us 3.5 hours took us close to 5 hours to get home!  However, we were all happy that we'd accomplished our mission and just plain glad to be back home.