You didn't think we'd leave California Adventure Park out of the vacation while we were there, did you?  Well, we didn't!
We had gotten ourselves 3-day park hopper tickets and Day 2 saw us make our way to California Adventure Park.  The queues to get in were unbelievably long and following Murphy's Law, our line was the slowest-moving of the lot!  We also arrived somewhat later than the first day, though….haha.
Our first stop was at the newest section of the park: Cars Land.  I had been to California Adventure Park twice before, but this is the first time I stepped foot in Cars Land!
Modeled after the hit movie Cars, this was Radiator Springs in the flesh!!  How awesome is that!?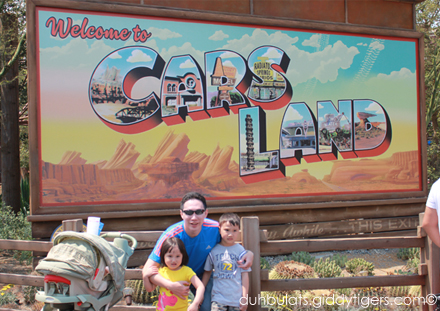 Can you just tell that the kids were getting so impatient to get moving into Cars Land?
Ethan and Hannah had wanted to get on the Radiator Springs Racers ride where they would ride in cars around a race track, like what you see in the movie Cars.  Unfortunately, the Fast Pass for this ever-so-popular ride was all taken up for the day, and the wait time was like 2 hours!  So Ethan was contented with just a picture (for now).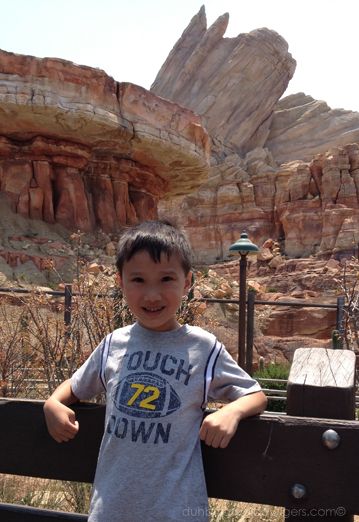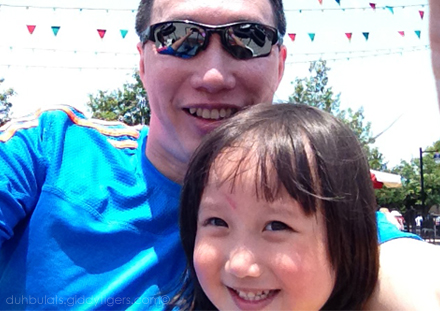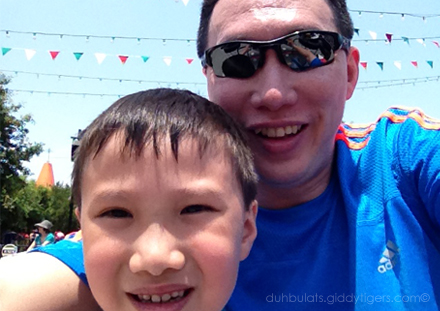 Hannah wanted to ride on the giant ferris wheel (Mickey's Fun Wheel), and we decided to get in line for the Swinging option.  This meant that besides going round in that huge ferris wheel circle, the swinging carriages would also be swinging back and forth at certain parts of the ride.
This family of three (father, sister and brother) came into the same carriage with us too, but after experiencing one round of swinging back and forth, the little boy wanted out, so when our carriage came back down, they asked to be let out; and then it was just Ethan, Hannah and me in the carriage.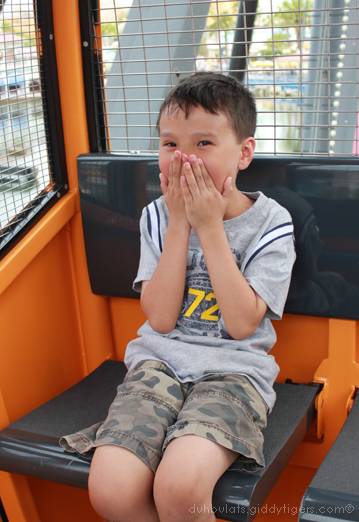 Lunchtime = Recharge Time
And then, it was time for more rides again!
One last picture at Radiator Springs before we move on…
One of the scariest rides we went on…The Twilight Zone Tower of Terror at the Hollywood Tower Hotel.  Only Ethan, Hannah and I went on this ride; Pete *volunteered* to look after Emma…..yeah right. 😛
It's a thrilling vertical ride up an enclosed "elevator", which is really really dark, and then the "elevator" free-falls down and the doors suddenly open to reveal the outside (see those doors in the picture?).  Well, it's not really "free-fall" but we felt like it was!  Ethan and Hannah both said they felt like their butts were floating when the elevator shot downwards!
And while we were busy in the "Twilight Zone", Daddy took some pictures of Emma:
We ended the day with dinner at the park and then we watched the World of Color show at Paradise Pier before we headed for home (the hotel).  Sorry, no pictures 'cos it was too crowded and we had to take turns carrying sleepy Hannah too.
Previously:
The Layover – Day 1: Disneyland
Next:
The Layover – Day 3: Saying Goodbye and Heading for Home