Two days before her actual birthday on March 2nd, we had a little birthday celebration for Hannah in school with her classmates.  As was always the case pre-birthday, Hannah was rather undecided on what kind of cake she'd wanted.  I would say she changed her mind almost every month leading to her birthday, so when she told me she finally decided, I had to ask her a few times to really confirm it.
Here's my birthday girl with her Sofia the First inspired dress and tiara cake.  She chose the design herself after looking through tons of ideas on Pinterest.
The entire cake is edible, even the fondant and gumpaste tiara, but I had to make some last minute modifications because errr….. there was a slight cake decoration mishap.  But my little girl was happy nonetheless… 🙂  I had tremendous fun baking and decorating this cake too, the highlights being the tiara and the floral designs on the skirt.  Not bad an effort for my first two-tier cake 🙂
I even painted an airbrush glimmer sheen on the tiara to make it sparkle!
We prepared simple party packs with a Sofia the first tag, containing an activity book, coloring pencils and a juice box for the kids.
Hannah carefully placing her five birthday candles on the top of the cake.  She opted for 5 candles instead of one number FIVE candle because she said she wanted to blow more candles!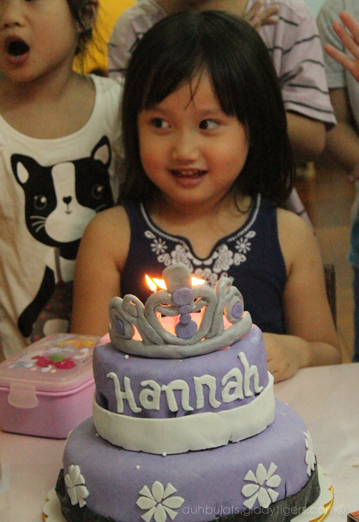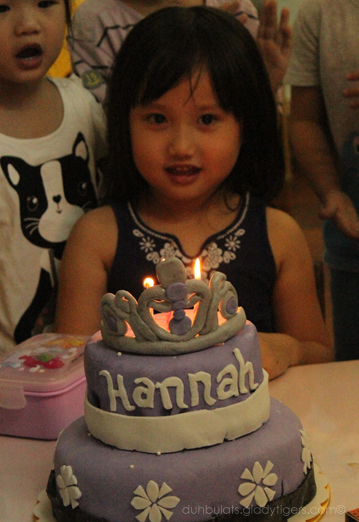 Making a wish… (or maybe five…?) 🙂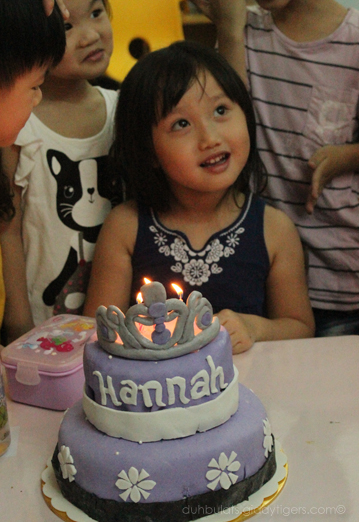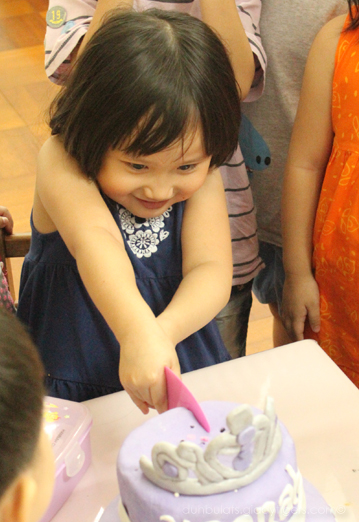 Where have all the years gone?  Wasn't it just yesterday that I held her in my arms as a little wee baby?
If the tiara fits…. 🙂
Here's the youngest party guest…
Later that night, my little big girl Hannah said to me, "Thank you Mommy for the wonderful cake and tiara. I love you!"
Happy birthday, snowflake… I love you too!