After procrastinating for so many months, what with the move and settling down and all, we finally managed to arrange for Emma's baptism last Sunday.  We figured we had better do it now so that she would still "qualify" as an "infant"…after all, it's called "infant baptism" for a reason, no?
A few close relatives turned up to witness the short and simple ceremony.  This time round, the baptism was held at a different church, one that is closer to our new home.  It lasted about half an hour and thereafter we proceeded to have lunch.
Photo-taking before the baptism commenced: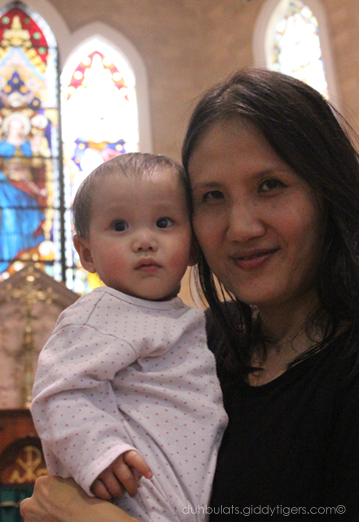 During the ceremony, Emma was busy blabbering away…  It was definitely an all-new experience for her, and certainly very educational for Ethan and Hannah too.  Ethan had been too young to remember what exactly happened when Hannah was baptised last time, so this time both Ethan and Hannah got to witness everything.
Towards the end of the baptism ceremony, it began to rain very heavily.  However, that did not dampen the ceremony.  It was a very special and meaningful one for us.
May the Almighty God bless us and keep us in his loving arms now and forevermore.