For Ethan's 9th birthday this year, we decided to have a cozy celebration at home. Hannah suggested having an Amazing Race birthday party, and what is a race without sharing it with friends, eh?  So we said he could invite his best friend.  So I planned the "amazing race" for two teams: Ethan & Hannah in one team and Josha & Elisha in another.
Unfortunately, Elisha was not well on that day, so we bended the rules a little and the two teams were then Ethan, Hannah and Josha in one team, and Peter and Emma in another. LOL!
The food our contestants ate to fuel up before the race was flagged off – homemade lum mee with all the yummy condiments: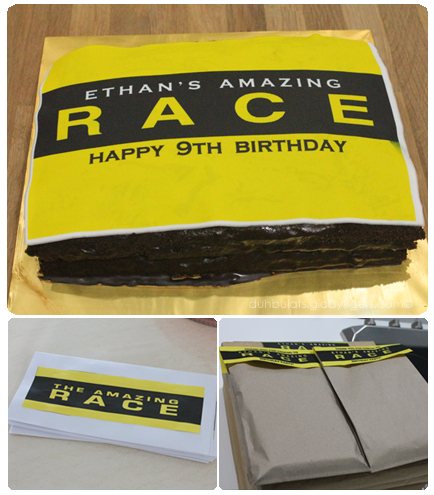 We decided to get the eating and drinking over and done with before the actual race started, although the kids were really really looking forward to flag-off time.  Eating and drinking also included the cake-cutting so we had that done too.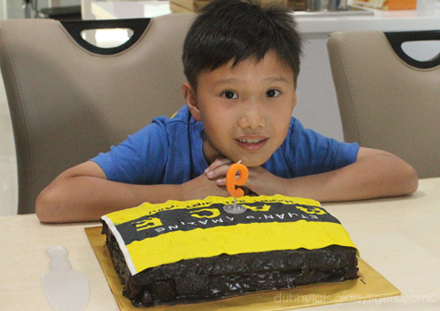 After our tummies were filled, the amazing race started.  Right before flagging off:
If you're a fan of the Amazing Race (like Ethan and Hannah), you will know that one of the key features of the show is the part where the contestants receive their clues in the signature Amazing Race envelopes, and then proceed to tear off the sealing strip to retrieve the clue within the envelope.
Initially I had wanted to use just regular envelopes, but then I wanted to make it as authentic as possible, so I decided to tweak the envelope to make it possible for the contestants to tear them open, just like in the television show.
The first task was to balance a ball on a spoon in their mouths and walk through a simple obstacle course in our porch.
Then a roadblock which involved memorising a poem.
This was followed by some other activities, like counting the number of bars on our gate…
"Find the Smiley under the food in the cups" activity:
… and a puzzle solving activity:
Triumphant at the Finish Line!!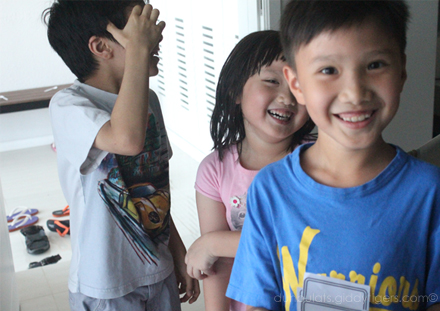 Everyone enjoyed themselves very much.  Ethan and Hannah reran the whole race over and over again after that!!  Even Daddy said the race was really fun…hahaha….anyone interested in planning a similar amazing race party, come chat with me. 🙂
Emma enjoyed herself too, being Daddy's partner and all…she was also overjoyed with her little party pack.