In addition to her party at Adventurezone, Hannah wanted a small birthday cake cutting session in school too.  I guess at her age, she can never have enough parties, eh? 🙂
She had been indecisive about the birthday cake she wanted me to bake for her, but when I gave her a Princess Anna dress a few weeks ago, she decided that she wanted a Frozen-themed cake.  I had no idea she was into Frozen to begin with!! 🙂
Her actual birthdate fell on the day after her Adventurezone party, and since she had had an accident the evening before, she decided that she would only go to school for that half hour, to cut the cake and pass out party packs to her classmates.
This was the cake I baked for her: a Frozen-themed watercolor cake, with three layers of butter cake in three different colors, topped with buttercream frosting and blue glittery sugar.
Obviously I reduced the sugar content in the cake, because the frosting itself would have provided loads of sweetness.
Stuff we packed the party packs with: Customized Frozen-themed water bottles, homemade glitter playdough and custom-packed marshmallows.
Yes, my little girl borrowed my shell necklace … ♥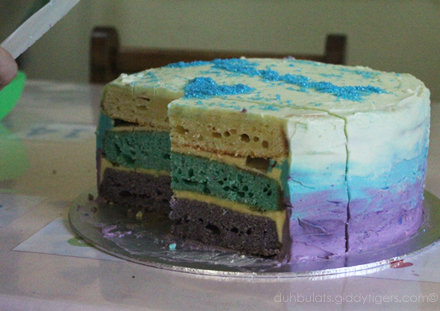 Her birthday continued at home as she opened up our presents for her… she got the watch from Daddy that she had been asking for 😛
…and a musical jewellery box from me (which was a pleasant surprise!)
It was a special day for a very special birthday girl!  Happy Birthday Hannah!