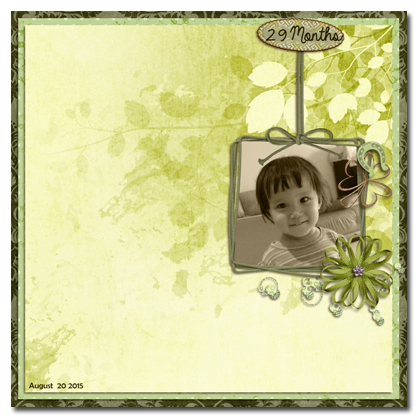 Scrap Credits
Designer Pack QP Freebie from Dees-Deelights
Weight
9.3 kilos
Height/Length
Not measured.
Teeth
After that first visit to the dentist, we can now confirm that Emma has a total of 18 teeth, with 2 top molars to come.
Motor Skills
Emma is mastering the art of climbing up and down the stairs, on her own.  When she goes upstairs, she will scale up the stairs on all fours, and when she comes down, she holds on to the balustrade.
She does not like to sit in the stroller when we go out now, preferring instead to walk on her own.
She has started to really enjoy her bath time now, and sometimes we have to negotiate with her to end her bath.
Communication and Social Skills
Emma can sing along to some songs which are played often, like Twinkle Twinkle Little Star, some Barney songs, and she loves singing with her siblings.  She catches the words pretty quickly when she hears the songs on the TV.
Emma can count 1-10 by rote, sometimes she will also say 11 or 12… 🙂
… and some parts of the ABCs too.
She can recognise a few colors and can point to items of that color when asked.  Still working on it, but she usually gets PINK and GREEN correct.
She can address "Ah Kong" and "Ah Ma".
Food and Feeding
Emma will eat mostly what the whole family eats now, and she is starting to love chicken too.  She also loves her rice and "char hor fun".  She will say that she wants to "eat tar pow rice". 🙂