In September (yeah, I know this is an extremely delayed post…so sorry about that, but hopefully the pictures will be more than enough to make up for that! The kids and hubby have been very good at pushing and encouraging me to finish this post!), we took a highly-overdued family vacation and headed down south to the kids-absolutely-love-the-place-but-it-is-so-freaking-HOT LEGOLAND in Nusajaya, Johor.  We had been to Legoland in Carlsbad, CA seven years ago, but back then it was just with Ethan and I was heavily pregnant with Hannah.  I doubt Ethan remembers much of Legoland Carlsbad apart from what I have recorded in this blog, so the visit to Johor's Legoland could be considered a fresh experience for the kids.
We decided to stay in the Legoland Hotel whilst we were there, which would make it so much more convenient for us, especially with kids along.  No complaints there and the room we had was spectacular.  More on that later.
On the day we were to start our vacation, everyone woke up super early.  Our flight from Penang to Johor was at 7:15a.m. so I had arranged for a cab to pick us up at 5:30a.m. that morning.  It was pouring!  But everyone was in a happy mood and we got on the plane, which departed and arrived on schedule.
We arrived in Legoland Hotel at about 10:00a.m. and because it was still early, our room was not ready yet.  We decided to put our luggage with the concierge and go right in to Legoland.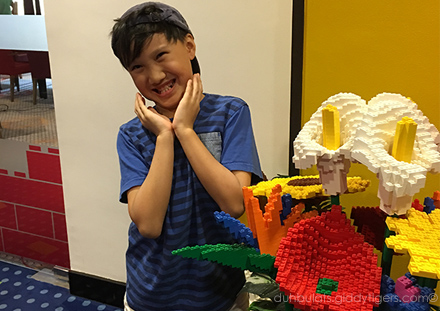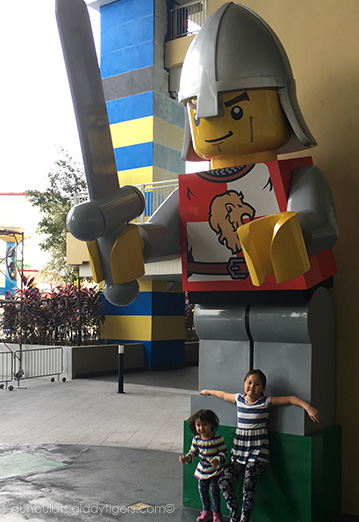 Yes, we were all raring to go. Hahaha.  And here are the pictures to prove it.
Having fun at the Lego store after the Ninjago performance in a fully air-conditioned (thank God!!) theater.  The kids are already asking to go to Legoland again once the new Ninjago ride opens at the end of the year. LOL
Ethan and Hannah could go on almost all the rides, and they were at the perfect age to enjoy the rides too, but unfortunately Emma had to miss out on quite a number of rides due to height requirements.  Nevertheless, she was a good sport and waited patiently for her siblings while they had their fun.  She had her own brand of fun too!
We left Legoland when the hotel called to let us know our room was ready.  At that time, I was truly ready to dive into the shower, change and go to bed.  It was really really hot out at Legoland.
The room we booked was a Kingdom-themed one, and it had 2 separate sleeping areas: one with a king-sized bed, and a kids' area with a bunk bed and a trundle bed, just nice for all the three kids!
In the bathroom, there were also 2 bathroom vanities: a regular-height one for adults and a kid-friendly-height one for the little kids.  Thoughtful little details that made our stay extra special.
There was also a little surprise for the kids: a Treasure Hunt game where they had to find the answers from clues in the room itself and get the combination to unlock a safe which contains presents for the kids.  Totally awesome and the kids absolutely loved it.
In addition, there was a box of Lego Duplo bricks in the room itself, to keep little hands busy
Decor in the room was primarily Lego structures…
We had a quick dinner at the nearby Medini Mall, where our littlest trooper fell asleep at the dinner table!  Poor dear…she must have been so, so tired!
Everyone had a well-deserved rest that night, and the next day we woke up and got ready for a BIG day at the Legoland Waterpark (Day 2).
There aren't too many pictures from the waterpark because we opted to rent a locker to keep all our belongings (including phones and camera) due to the fact that water is not friendly with electronic equipment. 😛
That night, we took a cab to a nearby mall for our dinner.
Day 3 saw us going into Legoland again, and the kids really wanted to go on ALL the rides, some rides more than once!  More pictures of FUN!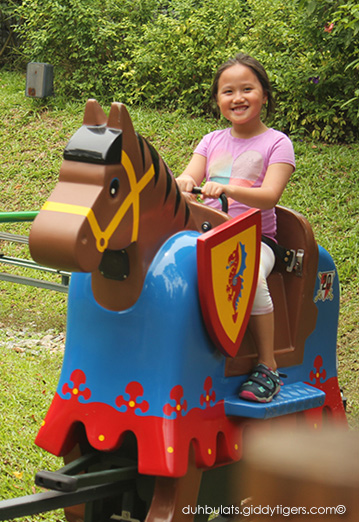 Photographer was distracted by the background…
One of the subjects got distracted (or bored, perhaps?) …
Day 4 and the kids insisted we had to make a final stop at Waterpark.  Mommy was already ready to throw in the towel because she was too afraid of getting a sun burn, but finally relented and everyone went to the Waterpark.
Came back to hotel and checked out in the nick of time, before taking a cab to the airport and headed home to Penang.  That was one great holiday, and although we were all very tired, it was perfect in every way and we all enjoyed having so much fun together!
The kids are bummed out because there is a new Ninjago ride coming up at the end of this year, and they will miss it, so they are hoping and praying that we will be able to go again soon.