Hurray!  It's the weekend again.  I love weekends because being a working mom, the weekends are the only times I get to spend quality AND quantity time with Peter and Ethan.  We make it a point to really enjoy ourselves thoroughly during weekends, no matter what we do.  I don't share the sentiments of some parents who claim they are more tired during the weekends, because for me, it is the opposite… weekends really get me energized!  However, come Sunday night, we're always wondering where the weekend has gone… you know what they say about time flying by when you're having fun?  SIGH……
Last weekend, we decided to spend the Saturday at Queensbay Mall shopping.  As usual, our boy was very excited upon reaching the mall.  We shopped for a bit: bought a couple of board books for Ethan from Borders.  Ethan had a lot of fun in the children's section at Borders, and was quite reluctant when it was time to go.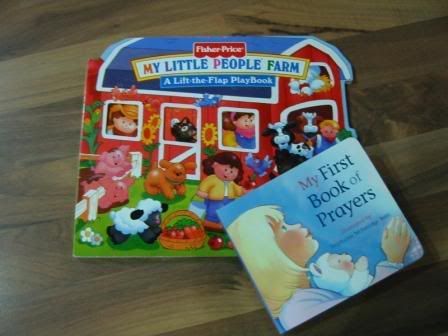 Dinnertime: we decided to go to T.G.I.Friday's: good food, great fun…okay okay…we were actually itching to go there too…heh heh….
Pete ordered the JD Burger and I ordered the Salmon Steak (yummy!).  We ordered spaghetti for Ethan.  We figured it was time for him to try the spaghetti for real and gave him strand by strand of the pasta to feed himself with it.  Of course, he had to feed himself with his hands, since he had not mastered the use of the fork and spoon yet.  It was the first time Ethan ate restaurant food by himself, and he really looked so adorable doing so.  Hmmph… the pasta Mommy made, he rejected.  But TGIF one, he ate willingly and even asked for more as he finished each strand, banging loudly on the table!
All in all, we enjoyed ourselves very much… Ethan did too, judging by the mess he made around his high chair.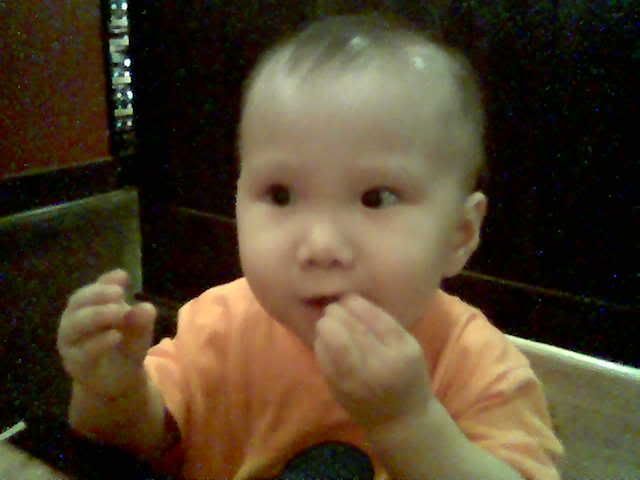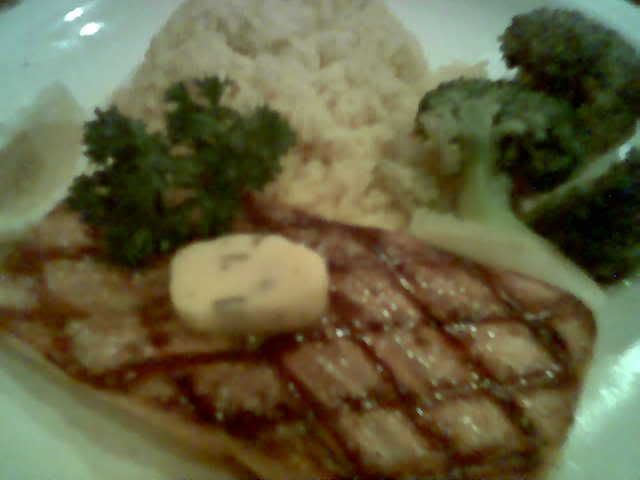 Sunday, I cooked my claypot chicken rice, so we ate at home before going to Gurney Plaza.  We bought more books for Ethan from MPH.  The books were at a steal at only RM9.90 each!  I couldn't resist getting 3!
And our boy is already enjoying himself with his new books now…