Last Sunday, Hannah had her first professional photo session.  It was not by choice, of course… we had to get her passport photos done to register her birth with the Malaysian Consulate in LA and also to apply for her Malaysian passport.
The night before I googled for nearby photo studios that provided this service, and we decided on one that was opened on Sundays.  Little did we know that it would be SO packed!
I had to specially request that the photographer take Hannah's picture first because we were afraid she would fall asleep soon.  So after a little bit of a wait, the screen was set up, but there was a slight problem.  Because Hannah was only 2 weeks' old, of course she could not yet hold her head up on her own and so we had to support her neck.  But that would mean the photo would show the hands of the person holding her!
So the photographer got a tiny little round chair and draped a piece of whitish cloth over it.  We then placed Hannah on the chair and tried to make her stay very still and look straight for the photo to be taken.  It wasn't easy, because she kept turning her head to one side and didn't look very comfortable.
We finally got a few shots, but when the photographer tried to view them, there was a problem with the memory card.  So he had to retake the shots.
And there we were again, trying to make Hannah *smile* for the camera.  But just as Hannah had the perfectest pose, the photographer had some problem with the camera and had to change the memory card again!
Anyway, we attempted once again, and finally we were able to get a couple of shots.  We paid for the photos and waited for them to be printed.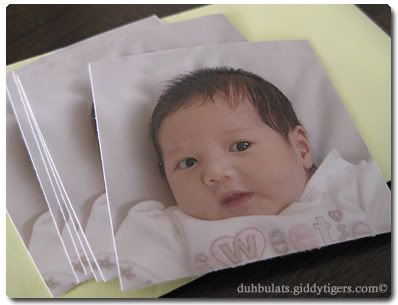 What do you think?