A week and a half ago, we finally took the kids for a fun trip to the Penang Butterfly Farm.  I use the word "finally" because all this time, we've been reading countless accounts about fellow bloggers and friends taking their kids there, but we had yet to make the trip.  Ethan was really looking forward to this trip and he was certainly very excited about it.
We reached the farm at around 3:00p.m.  The weather was simply beautiful, not too hot and not too cold either.  Although it did rain a few drops, our experience at the Butterfly Farm was not fazed.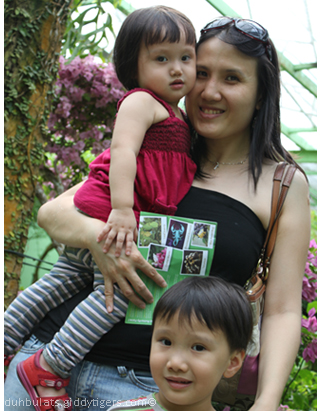 Amid all the "Wow!"s and the running around, we managed to get some pretty shots of some butterflies too…
The area was not very big, and we found ourselves making round after round and round.  The kids had a lot of fun, chasing the butterflies and also each other.  And when they were tired, they made a pit-stop at the exhibition room.  Ethan exclaimed, "Wow…it's so cool in here, Mommy!"
This was what he told us he wanted to do at the Butterfly Farm, and I'm glad he had the opportunity to do so…
After our Butterfly Farm visit, we headed on to Rasa Sayang Hotel with our hungry tummies, and had a splendid seafood buffet dinner at the Spice Market Cafe.  It was our first visit there, and the food was simply amazing!
It was a daunting task to take pictures of all the glorious food while looking after our hyperactive kids, and there were so many other dishes I left out.  For dessert, I adored the cheese cake, tiramisu, and the small bowls of crème brûlée.  Sorry, no time to take individual pics of these, but just a faraway shot…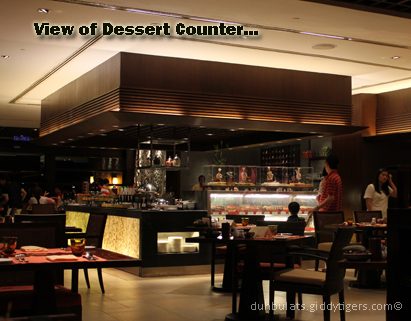 See how much Hannah enjoyed the food too?
Ethan didn't want to take a photo because he was too busy eating! LOL
"Daddy…may we come back again, please?"