Well…look what we have here….Ethan has been playing with this new electronic toy/tablet for about a week now.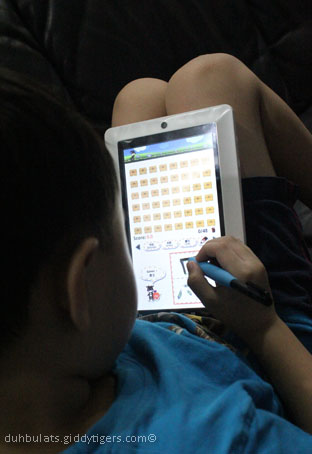 When I was first introduced to this PlayChinese tablet, I was a little apprehensive about getting it for him.  It's basically an Android-based tablet-like device which encourages users to learn Chinese by merely Playing it!  There are Chinese characters which allow you to practise the strokes and verbal pronunciations to help the user pronounce it.  What's attractive is that points are allocated each time you write a character.
Well, I said I was apprehensive at first because I figured I could perhaps find a similar app in iTunes for him.  So I searched.
I did find a few apps and when Ethan tried them, he was initially excited, but then he told me, "Mommy, I WISH I had a pen to write the characters with!"
You see, the apps which I found for the iPad and iPhone only allowed him to write using his fingertips.
So I decided to try this PlayChinese tablet out.
Well, so far so good.  It comes with 4 colorful stylus pens, which allows you to *write* on the tablet, just like the days of the Palm Pilot.  And Ethan is very happy to write the characters with them too.
Our intention is for Ethan to learn the verbal aspect of Chinese first, but if he shows a keen interest on writing it, then let it be.  After all, he will not be going to a Chinese-medium school, and we won't be forcing him to do anything he does not like.
This 7-inch tablet appears to fit the bill quite well.  Ethan is currently practising his writing as well as the Chinese spelling exercises I prepared for him.  Oh yeah, they have pinyin capabilities too, which makes it easier for me to *locate* characters…
Next step is probably to get a nice casing and screen protector for this tablet!