It was Hannah's first time being personally invited to a birthday party and it was the birthday of her good pal in school, Max.  The party was aptly themed Jake and the Neverland Pirates.   Just look at how creative the invites were made…"message in a bottle" 🙂
I got the kids involved by getting Ethan to write the birthday message on the presents.
Pete was supposed to touch down in Penang that very day, so I single-handedly brought both Ethan and Hannah to the party.  They were absolutely excited and kept asking me when it would be time to change into the pirate "costumes".  I even added a little shell necklace for Hannah (after I took the photo below) – she claims it contained pixie dust! 🙂 – You'll catch glimpses of the pixie dust necklace in some of the photos below.
All in all, the kids had a splendid time, as the pictures below prove.  I didn't bring my camera along, so most of my own pictures were taken with my iPhone.  The others were *borrowed* from someone else… 🙂
One of Hannah's favorite snacks of the day: sliced orange pirate ships on blue jelly water!
Kids being briefed on their first game, by a very gracious party host, Tess, Max's Mom.  Notice Hannah is multi-tasking by listening AND snacking on yummy popcorn too!
Ethan trying his VERY best to burst the balloon, to get the promised "treasure" captured in the balloon.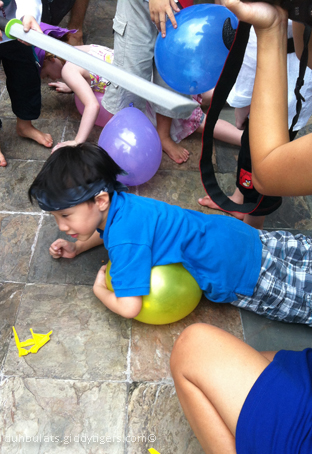 …and VICTORY, finally!!
Hannah and Ethan taking their turns at "Pin the Sword on Jake" (a la "Pin the tail on the donkey")!
Walking the Plank… 🙂
Getting ready for the next game: Passing the Parcel…incidentally, Ethan won this game and he was ever so proud of it 🙂
Birthday cake time, and it's a beautiful pirate ship with candle canons at the side.  Awesome!
Can you tell she's totally enjoying her cake? 🙂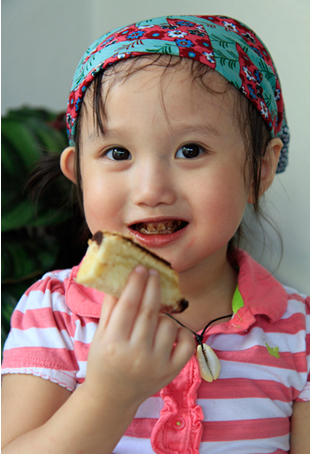 She finally got her turn on the swing!  Patience definitely pays 🙂
Non-watermarked photos credited to Picsy Studio