My precious kids make me even more proud of them each and every day, and this week was no different.  This was a very eventful week for all of us, especially for Ethan and Hannah.   After more than a month since we moved here, the kids are finally officially starting school!
It had been a rollercoaster of obstacles we had faced in getting the paperwork and submission sorted out, especially in Ethan's case, but we're glad it's finally completed and Ethan and Hannah were so excited to be going to school at last. 🙂
On Wednesday morning, after much persuasion, Hannah woke up bright and early and got ready for school.  She would be in the pre-kindergarten (pre-K) class, and she was really looking forward to it.  There was no hesitation from her at all when we arrived at her classroom, and she immediately hung up her bag and jacket and joined her class (but not before she gave Mommy a big HUG and KISS).
I then took Ethan to his elementary school to submit the last of the paperwork needed.  There were some delays due to the long year-end holidays, but thankfully, we managed to get everything done and sorted out that morning.  Ethan would be in 1st Grade. 🙂
Before we left the elementary school, we met with the one of the English language specialists in the school.  It was her job to assess foreign students on their English language proficiency via a simple assessment test on English reading, writing and comprehension.  We were with her for about half an hour and Ethan did really well on his test. 🙂  The English language specialist said that he reads very well and that he would be placed in an appropriate level.
I then confirmed that Ethan's official first day of school would be on Friday, and he was to arrive by 8:45a.m., where his teacher would meet him at the front office and then take him to class.
On Thursday, Hannah went to school as usual and Ethan and I stayed home.  Ethan did tell me that he was a little bit nervous about his first day of school the following day, but he was also excited to be meeting new friends.  I reassured him that it was normal to be a little nervous, but he could always ask his teacher if he needed any help.
Fast forward to Friday, and we thankfully managed to get the kids up and ready by 8:05a.m.!
I dropped Hannah off at her pre-K class first, and since she was early, she made it on time for breakfast!! 🙂
Then I took Ethan to his elementary school and waited at the front office for his teacher.  We were early and the teachers were having a meeting, so we had to wait a while.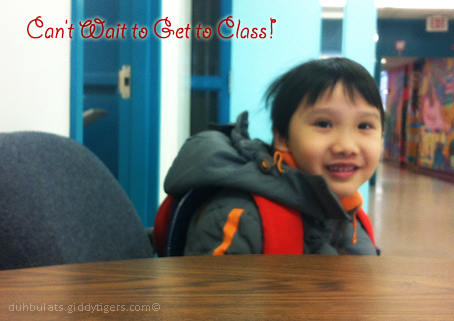 Ethan would be having two teachers who will take turns teaching the class on different days of the week.  She walked us to his class, and Ethan could not have been more excited!  She did say that the kids had a morning break, so I went back to get a snack packed for Ethan.
Later that day, I picked both kids up from school…both HAPPY kids, who could not wait to tell me all about their wonderful day.
One of the highlights when I pick Hannah up from school is when she gets to feed the guinea pig just outside her classroom.  Here, Ethan and Hannah are having a fun time making the guinea pig happy 🙂
It's gonna be an interesting and exciting time for both of them, I'm sure, and I pray that they will have fun all the way! 😀