It was time to bid farewell to Singapore and our vacation. After all the adventure and fun we had, we were looking forward to head on home, but yet a little bit sad the vacation had come to an end.
I woke up feeling way much better than I did the day before. The nausea and fever had gone and I was definitely much more energized…but not as energized as Ethan. Hah.
We went downstairs for our usual routine breakfast at the hotel and then hurried back up to our room to pack. We then checked out, left our luggage with the front desk and went for a little walking tour around Little India. It would have been embarrassing had we not at least walk a little around the vicinity when we had stayed in Little India for the past 5 nights! And it was a good thing we had that walking exercise too because we managed to catch a glimpse of the famous Sri Veeramakaliamman Temple, Little India's oldest and busiest temple.
All in all, we walked quite a fair bit and ended up in Mustafa Centre, the famous 24-hour shopping mall, which sells everything from watches, DVDs and handbags to clothes and foodstuff. It was not a very conducive place to bring Ethan to, unfortunately, because the mall was jam-packed with visitors and also, the aisles were so narrow! There was simply no place for Ethan to roam and run around as he wished.
We were already running a little late by then, so we decided to take a cab from Mustafa Centre back to Perak Hotel, instead of walking all the way again. We loaded the cab with our luggage and went straight to Changi airport. After checking in and obtaining our boarding passes, we had lunch at the Soup Restaurant again, starting and ending our vacation on the same note.
And what would a visit to Singapore be without stopping by Bengawan Solo and getting some goodies there? After all, I was craving for the pineapple tarts!  While I was busy choosing and (not) salivating over the cookies and layer cake in Bengawan Solo, Ethan kept Daddy busy by requesting to go up and down the escalators nearby.  He was also very much the shopper as he roamed the surrounding area, in search of a good bargain, maybe?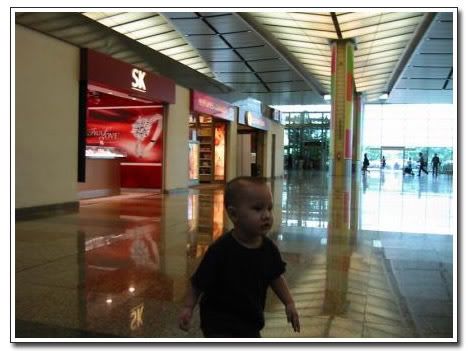 We finally entered the departure terminal with very little time to spare before we boarded our plane. I quickly looked for the nursing room and breastfed Ethan for a bit. Then Ethan had some time to explore the terminal before we went to the departure gate. There is this fantastic floor game with lights that allowed kids to kick an imaginary ball on the ground. The *ball* would react to the kids' kicking action. And that kept Ethan fascinated.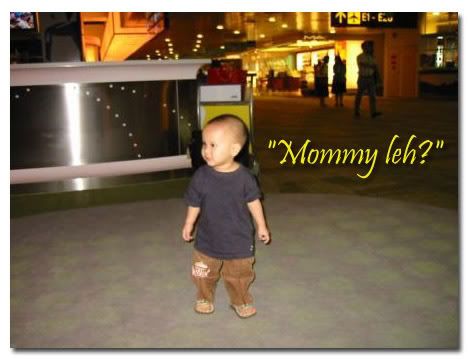 Hehe….Mommy rushed to Nuance Watson to get this: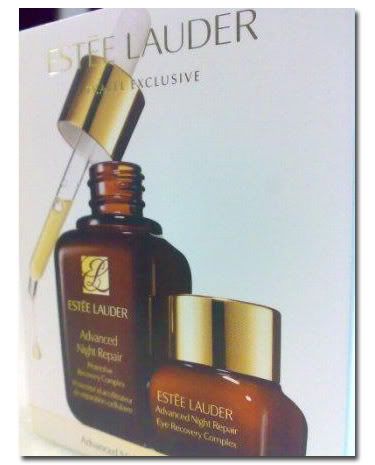 It was all done in super-duper quick time because I already knew what I wanted.
Then we practically ran all the way to our departure gate, which, following Murphy's Law, HAD to be at the very end of the terminal! The status was already showing as "Gate Closing" and it was really an adrenaline rush for all of us, similar to that experienced by contestants on The Amazing Race, I would think.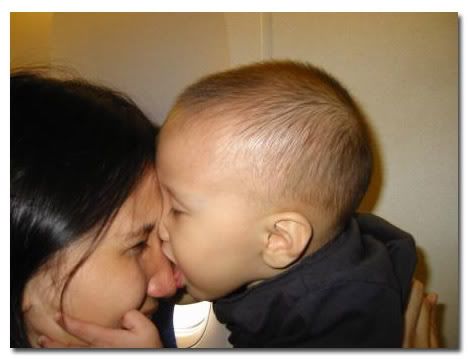 Upon boarding the plane, Ethan played around for a while but fell asleep in my arms shortly before the plane took off. He slept right through the entire flight, not even waking up for his meal. The very kind flight attendant, who was introduced to Ethan, took the trouble to provide us with a bag to tar-pow his meal back home.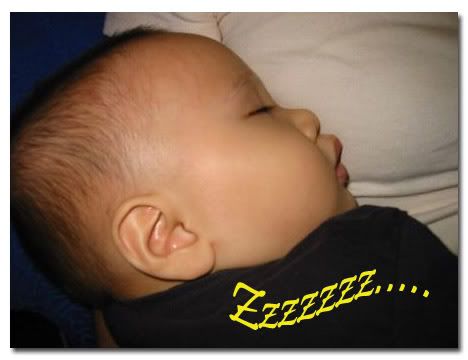 We took a cab from the Penang International Airport back to our home sweet home. And we could tell that not only Pete and I missed our home, Ethan did too…. he giggled with glee when we entered our apartment lift. Home at last! 😀