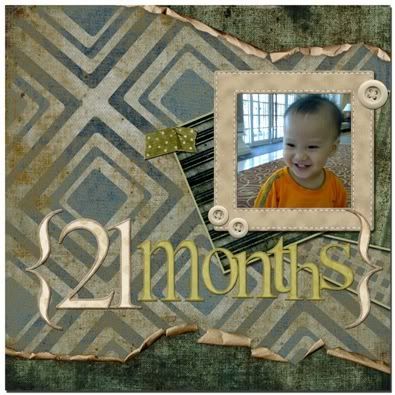 Scrap Credits
Slightly Rugged kit from Pam Lefors Designs
Stitched felt frame from Lindsay Jane Designs
Harvest Spice alphas & elements from Shabby Princess Designs
Weight
11-11.5 kilos. Weighed in during last visit to Dr Jessica, Oct 26 2007.
Height
Circa 83cm. Yesterday he was asleep on the bed in a rather straight position, so I took the opportunity to measure him with my measuring tape.
Teeth
Eight incisors, with 4 pramolars fast appearing, all at the same time!
Motor Skills
He loves to stand on one foot, especially when taking his shower.
He can sometimes climb up short steps on his own. Scary but true. And I have witnessed it before. In fact, he climbed up 3-4 steps last week all by himself!
When he wants to climb down a step, and no one is around to help him, he will turn his body round, and go down backwards, i.e. holding the floor and stepping down backwards one step at a time.
Ethan's favorite spot in Queensbay Mall is the slope area right outside Fila, just a short walking distance away from Nando's. He would run up the slope very quickly and then go down the stairs, reaching out for assistance from us. Or he would go up the stairs and then rush down the slope. He now knows the area like the back of his hand and would giggle loudly and run excitedly towards it whenever we are there. Just watching him play really makes our day.
Ethan can make the symbol "6" with his hands (i.e. one hand with all fingers open out and the other hand with just the index finger held up). Lately he has also started experimenting with "7" (i.e. extending the index finger hand to show the thumb AND the index finger).
Tries to take off his shoes on his own. When he is in his car seat, we always take off his shoes for him, to avoid him from touching his shoes and then his face or his mouth. Now, he wants to help by undoing the velcro on his shoes too.
Communication and Social Skills
Says "Bah!" when he refuses something, or when he has had enough of something.
Says "sssh" or "sssss" – for "fish". Also says it when he sees the view of the sea, or when he realizes we are on our way to Queensbay Mall.
To Ethan, "Whale" is "loliloliloliloli….". It must be the "l" pronunciation.
Keeps repeating some *words*, one of them is "chee-yap" or "chiap".  We don't know what that means yet.
He is learning to say "Baby Einstein", because every time he requests to watch the DVD, he would point and say something, but I have yet been able to catch what he says, although it is a 4-syllable word.
Ethan pants excitedly when he is anticipating something he likes, like just before we drive down the ramp after exiting the Queensbay Mall car park.
Able to give lip-smacking flying kisses to perfection.
He has also recently learnt how to give me a hug.  When I ask him for a hug, he would reach out both his arms and then wrap them around me, while patting my back affectionately.
It goes without saying that Ethan is now a very intuitive little boy. When he senses that we are ready to go out, he will run to the door and stand by it, waiting for us to open the door. When we reach the lift lobby, he will stand in front of the doors of the lift and run into the lift when it opens. He will also run out when the lift reaches our floor. We actually need to be very careful just in case he runs out at the wrong floor. Ah, but there was one time, the lift opened at the wrong floor and I asked him to go out (silly me!) and he stayed put. I guess he is observant too, eh?
Food and Feeding
Ethan is now becoming very adamant about feeding himself. At times, I would start off feeding him and then he would try to grab the spoon and fork and insist on feeding himself. He will make a mess, yes. But I suppose that is the only way he will eventually learn. Some of the food does get in, though.
We are in the process of weaning him from the breast, but there is not much significant success yet.  Although he can go without breast milk while I am at work (he will lead Mrs Tan into the kitchen to request her to make him a feed of formula), he rejects the bottle whilst he is at home.  When we offer him the bottle, he will take the bottle cap and attempt to close it.
He loves drinking (especially ice lemon tea) from a straw. He would hold the straw and then imitate the stirring gesture we adults sometimes make, and the drink from it. But just the other day when I ordered carrot juice, I thought the fancy color and cup would entice him to drink it, but nope, I was wrong.  Feeding himself was more attractive then 😛