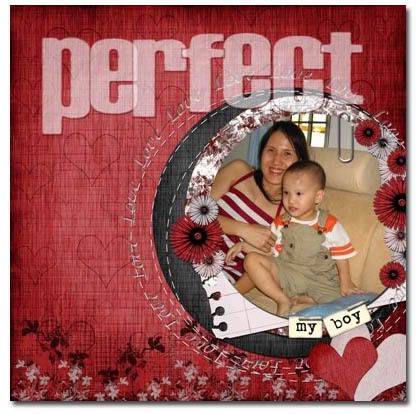 Scrap Credits
Kit "True Love" from Sueli Colbert
Boxed words from Chantal
Delight Series Red Inked Alphas from Foxy Designs
I knew weaning Ethan would not be an easy thing to do. In fact, I started trying out various weaning tactics when he was about 15 months' old, but I was not firm with it and he certainly did not seem ready to be weaned yet at that time. No amount of distractions, meal substitutions and coaxing could wean him from the breast, not even when I started him on formula when he was about 15.5 months' old, and I was afraid the weaning battle would become a stressful, terrible one. One of my fervent prayers to God was to have a smooth weaning process for Ethan, where neither he nor I would suffer, for I really cannot bear to see him wail and cry as if someone were abusing him or something.
Anyway, on our way to Singapore last year, one of the senior flight attendants (who obviously used to be a breastfeeding mother herself too) told me her secret method of weaning her boy when he was 17 months' old. At that time, Ethan was roughly the same age. She told me she used Bonjela. Applied it to her nipples and after a few rejections from her son, he was off the breast. It was as simple as that.
I didn't use this method immediately after we returned from our trip though. And I can't remember when I actually purchased a tube of Bonjela. But when I tried it the first time on Ethan, he made a face when he tasted the minty Bonjela, quietly and (dare I say) obediently walked away. That was during one of the evenings after work. I didn't try it again after that, because I was pretty confident Bonjela works.
When Ethan was a little older, it became apparent that he was ready to be weaned. He could go without breast milk the whole day long while I was at work but somehow he still "needed" breast milk during the day on weekends. I realized then that I was the one who was not ready to wean him off. I realized that all I needed to do was to be firm with him and hopefully he would comply. Although I used the Bonjela method off and on, I was wishy washy about it and so it didn't really work as I hoped it would. Sometimes when I used Bonjela during the weekends, and Ethan (the smart fella) would patiently wait till the effects wore off before cuddling up for a feed.
But when Ethan was one month shy of his 2nd birthday, I told myself that if I wanted him to be weaned, nobody could help me but myself. Only I alone can do it. And so I crafted a plan. I religiously used Bonjela, slowly eliminating one feed at a time in the weekends. Weaning him off the morning feeds was easy, but it was an uphill task when I began weaning him from the afternoon feeds. A bottle of Pediasure would usually be ready at hand whenever I used the Bonjela method, so I hoped he would get the idea soon enough.
Well, he was soon able to take his afternoon naps without breastfeeding…which was good, except it took him longer to fall asleep, resulting in a more tired Daddy and Mommy. I so took the ease of breastfeeding baby to sleep for granted, I tell ya. And it was a struggle to get him to sleep without the comfort of breastfeeding.
After he turned two, about a week before Chinese New Year, the Bonjela method had already successfully gotten Ethan off the breast from morning till after his nightly shower. He still needed to be breastfed to sleep at that time, though. He would wait till I had had my shower before he asked for a feed. So I told myself that I would continue with the plan after Chinese New Year, since it was not a good idea to make changes to the routine while travelling. I knew it was gonna be a hurdle to wean him from the breast for his nightly feeds.
But God is good, and He answers prayers. A few days before Chinese New Year, Ethan started to go to sleep without the need to be breastfed. I don't know how and I don't know why, but it just happened. Sometimes he would just cuddle up to me, just to be close to me and he would fall asleep on his own. He would still wake up once or twice in the night for comfort suckling though, but that did not bother me, because I knew it would be another obstacle I had to overcome soon. I figured I would cross the bridge when the time came.
However, one of the nights during the Chinese New Year break, he started to sleep through without needing his comfort suckling. He still wakes up sometimes, but he will just snuggle close to me and will fall back to sleep. It happened so suddenly that I didn't even see it coming.
His last breastfed meal was on the night we returned from our hometowns in Ipoh and Taiping. After his shower, he came up to me with this loving look in his eyes, propped himself on my lap for a feed and after a few minutes, he was done. He gave me a "Thank you Mommy, I love you" look and went about his usual business. It was done in such an endearing manner, that I could not help the tears trickling down my cheeks. It was as if he knew our "contract" had ended and he was saying his final goodbye.
Oh sorry…well actually that was supposed to be his last feed, but I breastfed him again a few days later when he was down with fever… out of pity 😛
Anyway, it has now been a little over a week that Ethan has been completely off the breast. What started out as my labor of love became a loving wondrous journey that lasted approximately two years and a week. I thought I would feel a sense of relief because the weaning was now over and done with. But what I felt was a tinge of emptiness…as if something I had grown to love dearly is now missing from my life. It is a sign that my Ethan boy, my darling Mr Bulat, has grown up somewhat, and I am just grateful that I was able to give him the best nourishment a mother can offer.