It was experiment time again last weekend, when I decided to dish out something else to satisfy the needs my strongest food critic ever, who else but Ethan 😆
On Saturday, I cooked up a dish of stir-fry Japanese tofu with shrimp, carrots, mushrooms and egg: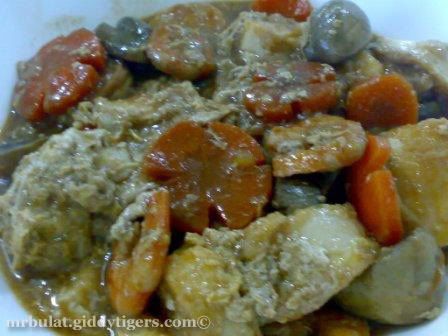 I know what you're thinkin' …. looks kinda yucky and scary, doesn't it? Well, although Pete claimed that it tasted a bit bitter (because of the mushrooms), Ethan certainly didn't seem to mind. I served the dish over his steamed rice and he was busy feeding himself; although he didn't wanna take the carrots, I was glad he ate the tofu 🙂
Dinnertime, we decided to head out to a nearby Pizza Hut since we only had food left for Ethan. It had been ages since Pete and I had pizza, so it was definitely a welcome change.  When we were served the cream of chicken soup, I was surprised by how much Ethan loved it. Good thing I brought along his own spoon…the soup spoon Pizza Hut provided was way too big for his mouth. Look…eating all by himself samo.
I actually packed his rice + tofu dish out as well, but our boy would have none of it, until he had finished all his soup. Oh, and although he was curious when the "puh-ta" (pizza) arrived, he didn't want to try any of it. Well, as long as he had his rice and was happy 🙂
Sunday came and since I had some more of the Japanese tofu left, I cooked a slightly different dish, and that's when I hit jackpot. Not only was it pleasing to the eye, both Daddy and Ethan loved it! It was a "throw everything together" concoction, and I even included chicken ham chips for additional flavor. In fact I even managed to sneak in a piece or two of the carrot and broccoli for Ethan, praying hard that he will eat them. And he did!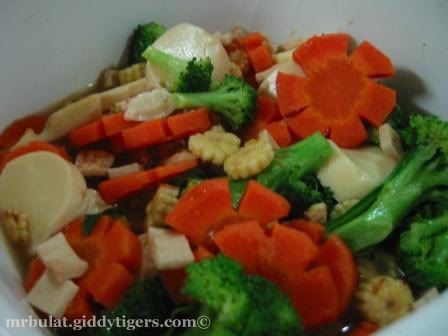 Looks like I'm heading somewhere huh? 😆
I'm gonna get the Annabel Karmel cookbook for toddler meals soon, and hopefully with that *weapon*, I'll be able to produce more interesting and nourishing food 😛