Grandparents' Day this year falls on September 7, so we decided to make a trip back to Ipoh and Taiping, so that Ethan's grandparents can dote on him.  And boy, did he enjoy himself!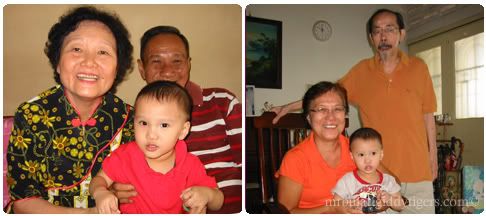 We noticed that Ethan is becoming more and more at ease with his grandparents now, and it didn't take him too long to get comfy; snuggling up with Kong Kong in Ipoh, sitting on the swing with Ah Mah in Taiping.  Of course, the grandpas and grandmas were thrilled to no end when Ethan started reciting his alphabets and numbers confidently too!
Ah Ma from Ipoh even presented Ethan with a little new toy: a fish lantern that moves about on the floor singing the song "Row row row your boat, gently down the stream…merrily, merrily, merrily, merrily, life is but a dream" incessantly.  We took it back home to Penang with us, and it puts a smile on Ethan's face whenever he plays with it.
I think the battery will run out soon.