For Ethan's 3rd birthday, we decided to have a small do at his daycare on Friday, the day before his birthday.  After all, all his friends are there and we figured he would have so much more fun that way.
I prepared party favor packs for each of the kids at the daycare, and we chose the (what else?) Mickey Mouse theme.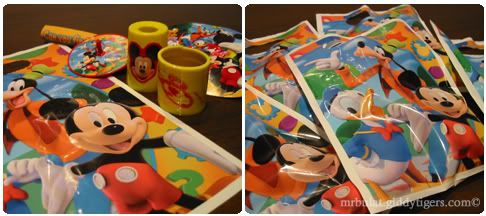 Inside the party bag, there was a toy spring (Ethan goes "BoinggggkKKK!" when he plays with it), a mini spinning top, a kaleidoscope, an activity sheet and a big sticker for the kids.
I also baked Ethan's favorite "featherberry muffins" for the party, and we ordered two pizzas too!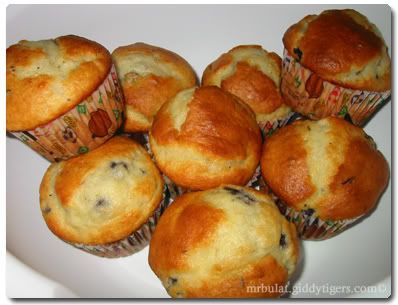 Of course we also had some balloons!  Ethan had been asking for "banoons" since early January, and I told him he would get some for his birthday.  And these did not disappoint…. 🙂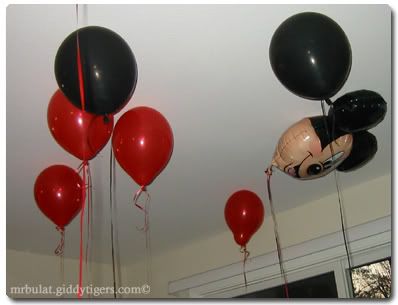 Driving with a dozen helium-filled balloons and a gigantic Mickey Mouse balloon in the back seat of the car was a scary experience, but it was worth the while.
And oh, we certainly didn't forget the cake!  Here in the US, (surprisingly) it is so hard to find a bakery which does character cakes on the cake itself that was edible.  But we managed to get an adorable Mickey and Minnie cake for Ethan from Safeway.  Although the figurines aren't edible, we were sure that Ethan would love it, simply because of Mickey and Minnie!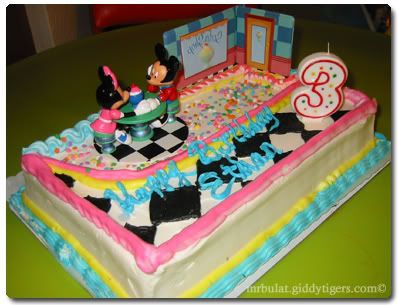 All the kids were excited when they saw the cake, and in order to prevent the cake from being *destroyed*, we decided to do the cake-cutting first.  When we lit the No. 3 candle on the cake, Ethan looked stunned, perhaps a little awestruck?
He looked all of seriousness, and it was as if he was deep in thought.  He still looked so serious when we sang the Happy Birthday song to him, and didn't even smile when we asked him to….
Still serious when we blowed the candle out….
Still serious when we cut the cake…
…and still deep in thought when we posed for a picture…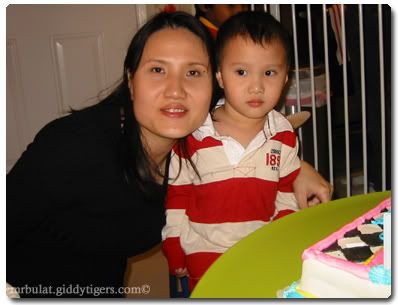 Maybe he was just letting it all sink in…..still figuring out how to react to all this "birthday boy" attention he was getting…
And then…he decided to do something!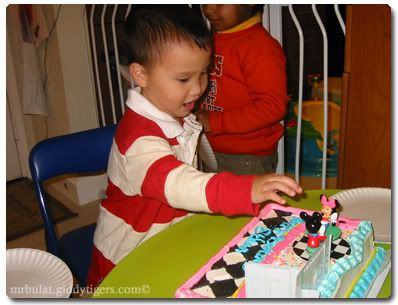 We all had a fun time at Ethan's party (pizza was good!), and I am sure Ethan was thoroughly enjoying himself too!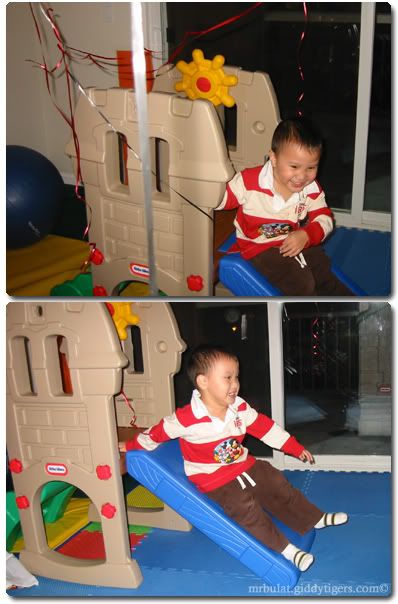 I know for a fact that he was absolutely delighted with the balloons!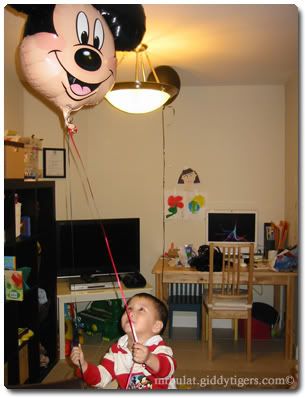 And that infectious laugh and happy face never fails to brighten up our day…. at the end of it all, it just makes it all the more worthwhile when he voluntarily exclaimed, "Thank you Daddy!" and "Thank you Mommy!"
Awwwww……..