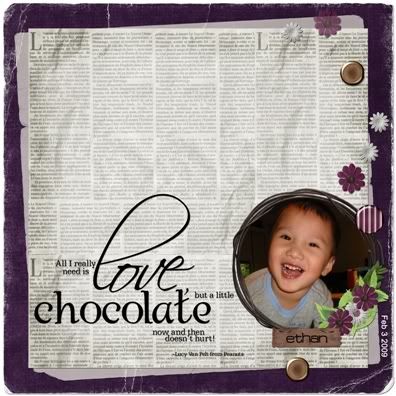 Scrap Credits
Plum Pudding kit from Stacey Towers
Elegant word art (love chocolate) from Bethany

We have never known Ethan to have a sweet tooth.  Yes, he likes to play with candy canes and sweets, but they hardly ever enter his mouth. 
Lately however, our little boy has been showing a keen interest in all things CHOCOLATE.
It all started when Mommy began craving for come chocolate milk.  So off I scooted to get a gallon.  It sure did taste good, but was rather sweet too.  I didn't give any to Ethan at first, but you know our boy…of course he was curious when he opened the fridge and saw that big container sitting there.
So I told him it was chocolate milk and asked if he would like to try some…and what happened after that, as they say, is history.  He simply LOVES chocolate milk now, and can down about three half cups at one go.  Sometimes he would even wake up in the middle of the night requesting for chocolate milk.  I sometimes mix a little bit of fresh milk to his chocolate milk, just so it is not too sweet for him. 
In fact, since he loves chocolate milk so much, we have stopped his night bottle feeds on Pediasure now.  He only has Pediasure with his bottle once a day, in the morning. 🙂
And guess what?  He is also incredibly addicted to chocolate cake…Ethan's Mickey Mouse birthday cake was a chocolate cake, and he has been eating most of it.  He asks for chocolate cake and specifically wants ONLY the brown part!  He's not a fan of the cake frosting, you see.  Well, he finished the last of the cake yesterday, but he is still asking me for more…perhaps I ought to bake a chocolate cake in the next few days.