Every holiday season is a perfect reason to stuff ourselves silly with food, no?  Well, it's a reasonable *excuse*, if you ask me… 🙂
In any case, we certainly utilized that *reason* to its max during the Christmas that just passed.  We kicked off the eating marathon on Christmas eve itself.  With a scrumptious Chinese course lunch at Starview in New World Park, everyone had a hearty meal and happy tummies could be seen everywhere!
One of my favorites from lunch: Peking Duck served in 2 ways: sandwiched between soft and fluffy mantous AND served in shredded salad form in pie-tees.
Baby abalones cooked to perfection, and served on a bed of broccoli: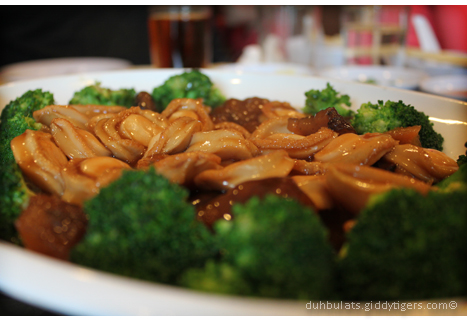 And the prawn dish:
Ethan and Hannah got to meet up with their cousins, Jonathan and Phoebe.  While the kids were packed with boundless energy and had fun running around, chasing each other inside and outside the restaurant, the adults had to take turns supervising them…which was a good thing too, as it certainly aided the process of food digestion and calorie burning…
Pretty gals in a row…
And just as the food from lunch was about to be completely digested, it was time for dinner.  We had a simple gathering at Pete's brother's (Patrick's) place, where the food was served buffet-style (kinda).
Jiu hoo char made by Paul, Pete's brother, and my humble attempt at fried beehoon:
Chicken rendang from Eng Ee:
..and my chicken curry, which I'm a little sorry to say, was a tad too oily…
Then it was time to unveil the big bird we ordered from Victoria Station:
Yummy yummy…with lots of gravy!  We kept the turkey leftovers to make turkey sandwiches, and up till today, there's still some of that turkey in my fridge!  I'm planning to enlist my Mum's help to make kiam chye boey in a few days' time 🙂
While the grown-ups had dinner, the kids busied themselves having fun with the toys…
And then the inevitable came…it was time to unwrap the presents: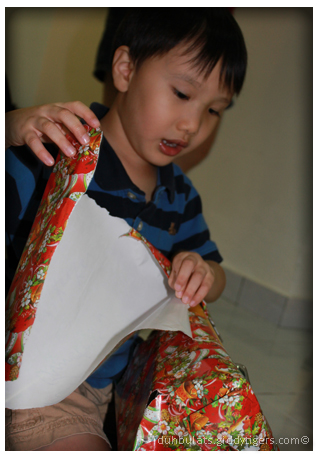 Technically, it was still a day early, but the kids were all too impatient to bother…never mind, they'll have another gift-unwrapping session on Christmas Day itself!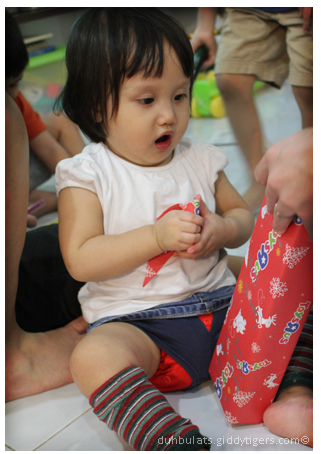 *****
On Christmas morning, we miraculously made in on time to church at 9a.m.  Ordinarily, getting to church at 10a.m. was already a daunting task for us.  It must have been a Christmas miracle! 🙂
Anyway, after church, we did a light breakfast at Kayu…yup, we had roti canai for breakfast!  Haven't done that in donkey years!
Waiting for our food to be served…
Doesn't Hannah look adorable in a girly-girl dress?
Okay, Ethan…you look adorable too! 🙂
After breakfast, we resumed our gift-unwrapping session, this time at a different venue…  OUR HOME!! 🙂
We gave Ethan and Hannah each a toy car garage set.  Very very cool…and yes, it will definitely take up more space in our humble home, but at least they won't fight over it…(well that's what we think.. :P)
Merry and Blessed Christmas everyone!