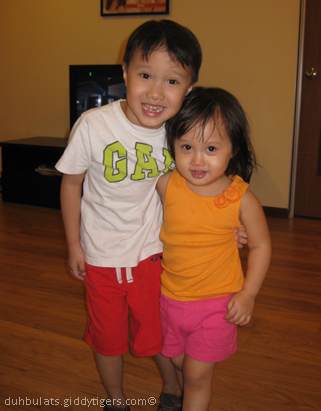 We took both Ethan and Hannah to see the dentist for their twice-a-year checkup yesterday. Well, for Ethan, it was his 2nd time with this dentist, but for Hannah, it's her first time ever going for a dental checkup.
While waiting for their turn, the kids were fascinated by the door sensor that went "Ding Dong" every time they'd go near it.  The waiting area was pretty spacious, which allowed them to roam around.  SIGH.  They obviously ignored our reminders to "keep it down!" 😛
I took both kids into the treatment room, because I wanted Hannah to observe Ethan having his checkup first.  The dentist remarked that Ethan's teeth were absolutely clean and told him to keep up the good work.  Our boy was beaming from ear to ear! 🙂
Then came Hannah's turn.  She willingly got into the patient's chair and did not wriggle or scream when the dentist ask her to open her mouth to check.  Such is the power of sibling influence 🙂 and I was very impressed by her courage at such a young age.
Unfortunately though, the dentist detected a small cavity in Hannah's 2nd upper right incisor, which she said had penetrated the dentin layer (not sure why Hannah had not complained of pain).  Anyway, the dentist did a composite filling for Hannah using slow frequency equipment that would not be so *scary* and loud for a two-year-old.
And Hannah did GREAT.  I'm so proud of her.  She laid very still as I held her hand and the filling was done in less than 5 minutes.  No wailings, no screaming and no tears.
I told Hannah she had to let Daddy or Mommy brush her teeth from now on (or at least take turns with her, i.e. "First Mommy will brush your teeth…and now it's Hannah's turn!").  Sometimes she would insist on brushing her teeth herself, which could be the reason why she had a cavity in the first place.  Well hopefully, in 6 months' time when they go for their dental checkup again, the dentist will give an "all clear" report! 🙂