What an tiring, but eventful and enjoyable weekend it had been! Last Saturday morning we drove down to Damansara. We had planned on making this trip about a week or so back but was having some problems booking a room because it was the school holiday season. Thankfully, we managed to secure a room at the Royale Bintang last Wednesday! That's the most convenient hotel to stay in because The Curve is just next to it, so that makes shopping so much easier. So we were all set! Although our plan was to leave Penang at around 9a.m., we all overslept and only was able to set out at about 10:15a.m. Therefore our plan to have lunch at The Curve went down the drain and we ended up (again) having lunch at the famous Pun Chun coffee shop in Bidor instead.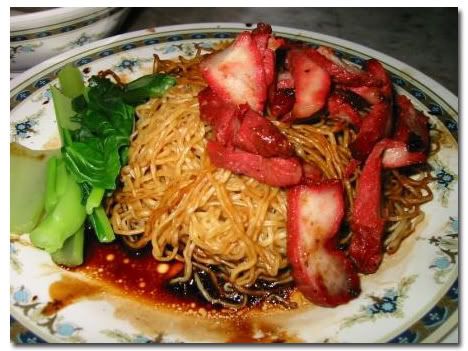 It wasn't entirely a bad idea actually, and although the wan ton mee is severely overpriced, it was good. We thought Ethan is a wan ton mee fan, but he decided he didn't want any of it that day, choosing instead to dig into the char siew pau. So much so that we had to tarpow an additional pau for him to continue eating in the car after leaving Bidor.
After finishing the pau, Ethan was still going "mum mum mum…", so I gave him cornflakes. He munched happily on the cornflakes all the way till we reached the hotel.
After checking in to our room, our boy was very fascinated by his new surroundings, walking up and down the room, into the bathroom, opening the cabinets and drawers. It was clear that he had all the energy in the world to go shopping! Since Daddy the driver wanted to get forty winks, I changed Ethan and got him all ready. We then met up with Ethan's Aunty Pauline in the hotel lobby and went on our shopping excursion! There's nothing like shopping to beat fatigue 🙂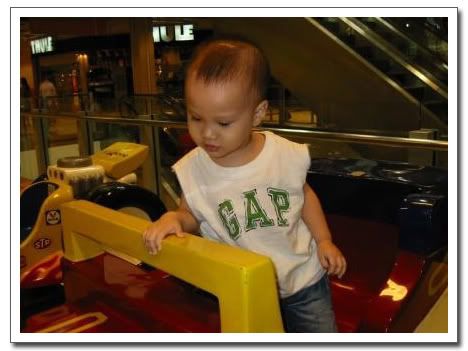 Of course, I chose to go to Mothercare first and the neighboring baby and toddler shops. With Pete not around, there was a tendency for me to overspend… hah… I ended up with 2 pairs of peejays for Ethan, some clothes and another Baby Einstein DVD: Baby Noah, which was on sale at 10% off at Early Learning Center 🙂 The three of us hung out at The Curve and even walked all the way to Ikano Power Center and back.
Soon, Ethan requested for "mum mum" again, and I took him to the Baby Care room in The Curve for a feed right before dinner. There was a short queue there and we had to wait for about 10 minutes before we got ourselves a cubicle. Honestly, the management at The Curve should consider having another room or perhaps expanding the existing nursing room, because even when I was breastfeeding Ethan, there were so many other mothers and babies waiting in line after me! Ethan almost fell asleep but woke up at the right time, just before we were about to leave for dinner.
Dinner was at Marché, with Pauline, Paul and Guat Tho (Ethan's Ah Pek and Ah Mmm). Pete and I were craving for Marché since we frequented the restaurant in Singapore and were eager to see if it was the same here in Malaysia. We were however sorely disappointed that there was no root beer 🙁 The one thing we were hoping to get!! Ethan, however, enjoyed his dinner very much. He loved the veal sausage and mushroom soup, and even had some of the pineapple and starfruit juice! He almost snatched my crépè away too, but I moved my plate away just in time!

Scrap papers & elements from Lindsay Jane Designs
After our post-dinner shopping, we went back to our room to retire for the night. Unfortunately Ethan had other plans and only fell asleep (I think) after 11p.m.
The next morning we woke up around 9:00a.m. and rushed to go downstairs for the buffet breakfast. There was already a long line when we arrived at the lobby, so by the time we got seated it was already close to 10:30a.m.
Ethan again enjoyed his sausages, this time it was chicken. He finished 2 sausages I think, and even hijacked some of my pink guava juice.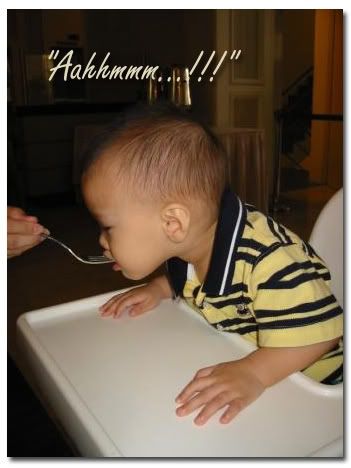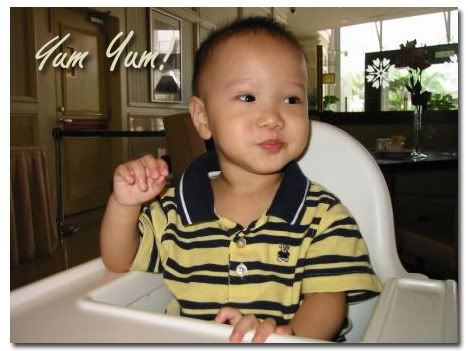 Then he also walloped some fruit loops. Breakfast is, after all, the most important meal of the day.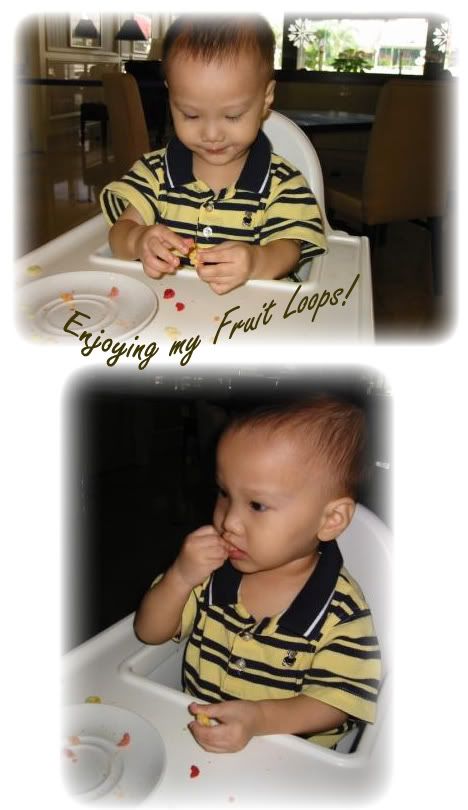 We then went back to our rooms to pack and prepared to check out. Shopped for a while at Ikea, because what is a trip to Ikano Power Center without visiting Ikea, yes? The beauty about Ikea is that it had these children stations where they put toys for the kids to play with. These stations were strewn all over Ikea, just to keep the kids occupied while their parents went about their shopping.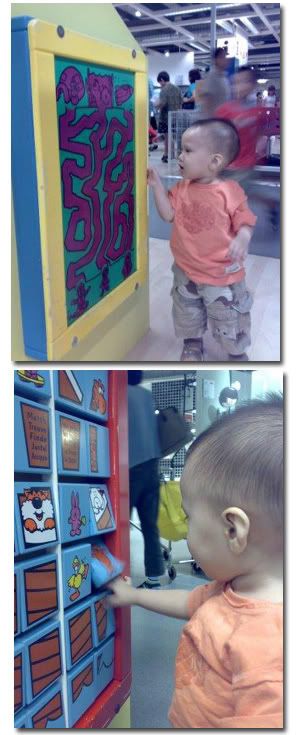 Of course, Ethan is also quickly learning to be an avid Ikea shopper, preferring to test out certain items that caught his fancy.
We then had lunch at a Japanese restaurant in Damansara Uptown, called Umai-ya. I tell you, I have no idea how much Ethan ate for lunch, because he at first was sharing the chawan mushi with me (I gave him chawan mushi mixed with rice). Then when I ran out of chawan mushi, Pete and Aunty Pauline contributed theirs too. And our boy was eating it non-stop. After lunch, I could actually see his tummy bulging from under his clothes! Hehehe…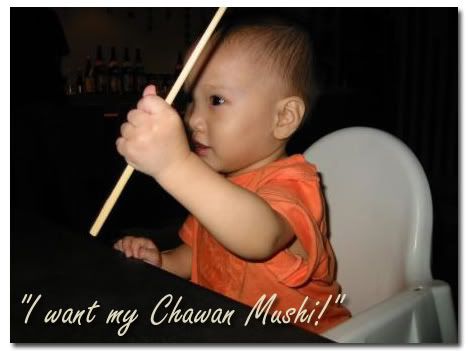 We then visited the show unit of Aunty Pauline's new condo, Menjalara 18. Ethan went about the show unit as if it was his own home, climbing up and down the sofas and the beds.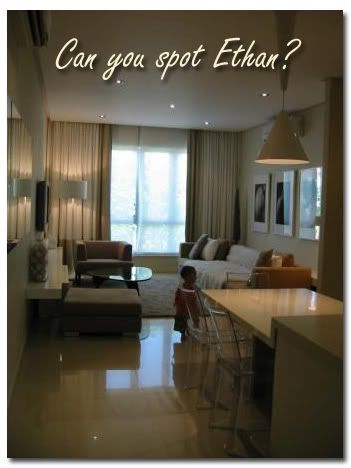 After that it was homeward bound to Penang. A rushed trip but a really enjoyable one. We do it next month again, yeah? 🙂