Today is Mother's Day and I am technically allowed to have some extra shuteye in the morning, yes?  Obviously *someone* was not informed.
Ethan boy, even though you got up at 6:30a.m. and forced me to go out to the living room with you to watch Barney, I love you.
Even though you weren't too keen on drinking the warm milk I prepared for you, it's okay.  At least you took the oats I cooked, mixed with a little bit of Frosties. 
And when we went to church today, you were fidgety after half an hour and wanted to go out wandering.  Even though you roamed the entire compound of the Wesley Methodist Church with Mommy following you around the slightly muddied field in my heels, I still adore you.  Perhaps because it was a new environment for you to explore.
And when we arrived at Mama's for lunch, even though you kicked up a fuss and cried at the top of your voice, wanting only Mommy to carry and console you, I love you…for I knew that those were cries of hunger, and sure enough when your favorite tau ewe bak came served with warm rice, you walloped an entire big plate of rice all by yourself.  Thankfully they did not charge for your share of the rice.
Even though you are sometimes a little bit hard to handle, I feel so much love surge into my heart whenever I see you sleeping peacefully.  And when I lie down next to you for our afternoon nap, I thank God for the adorable darling little boy He blessed me with. 
You enjoyed your dinner at Friday's where Mommy jazzed up your order, by getting you grilled chicken sausages instead of your normal spaghetti.  And although you later went round the restaurant with your red balloon hitting everything that came in your way, we love you.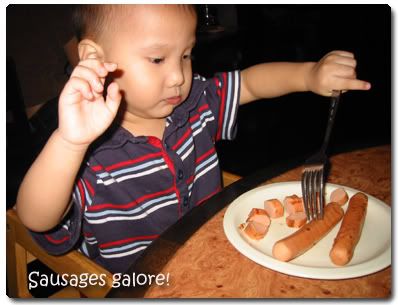 Ethan, you make motherhood a wonderful and life-changing experience for Mommy…and although I know you sometimes test my patience, I will always cherish and love you. What a splendid Mother's Day we had together today.
I better get to bed now, in case you decide to wake up *early* again tomorrow morning.  Yes folks, motherhood is definitely a life-changing experience but something I will never ever change in my life.
Happy Mommy's Day to all the beautiful mommies out there!… and of course to me! 😀