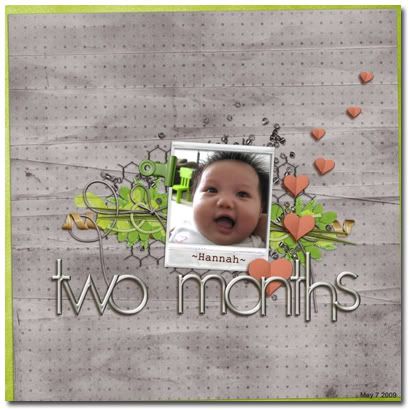 Scrap Credits
I Love Spring QP freebie from Biancka
I Love Spring elements from Seni Designs
"In the City" Alphas from Sahlin Studio
Weight
5.846 kilos or 12 lb 14.2 oz (weighed in at her recent 2-month well child checkup).  Hannah's weight is charted at 92.35% of growth percentile based on weight-for-age!
Height/Length
56.5 cm
Motor Skills
Hannah's getting stronger in her kicks.  She also loves to splash the water with her feet when I bathe her.

She can open and close her hands sometimes.

More eager at batting the toys hung in front of her.

Can hold head up at an angle when placed on her tummy.

Can rotate her whole body while placed on her back on a flat surface.

Once, it felt like she was trying to stand when I held her against me, and her feet were pressed on my thighs, as if she was standing with support!

Likes to be propped up.  She loves to *sit* on the sofa, or held in a sitting position when carried.
Communication and Social Skills
Hannah's loud throaty sounds are getting less, especially after we started using a humidifier.

She has started cooing and making sounds in response to what we speak.  Sounds like "oooh" and "aaah" are her specialties.

More smiles now 🙂

Cries are getting louder and stronger and more persistent, sometimes to the extend of  "sounding out of key".  The word we are looking for here is "heartwrenching".

Eye contact is more apparent and she will follow our movements intently with her eyes.
Others
Hannah can sometimes sleep for about 5 hours straight during the night, but it is not consistent.  Hopefully our sleepless nights will be a thing of the past soon.
Food and Feeding
She is 100% on Mommy's milk.  However, because her weight is on the higher end of the scale, her doctor has asked us to try giving her slightly less to drink; perhaps removing the breast a little sooner or feeding her just one breast during the night, or try going through the night without a feed.  On the other hand, I feel that Hannah can gauge when she is full because she would sometimes reject the breast, unlike her brother the last time.