Our recent Chinese New Year celebration was nothing short of exciting.  As is usually the case, this year saw us travelling from Penang to Taiping on the eve, then to Ipoh on the 1st day, and then back to Taiping for a pit stop before heading back to Penang on the 3rd day of Chinese New Year.
Some picture-snapping moments from Taiping…
Kor Kor with Ethan and Hannah…
3-Pek-Kong (a.k.a. Granduncle Albert) with the kids…
…and with Taiping Ah Ma…
Photo session continued in Ipoh… with Ipoh Ah Ma…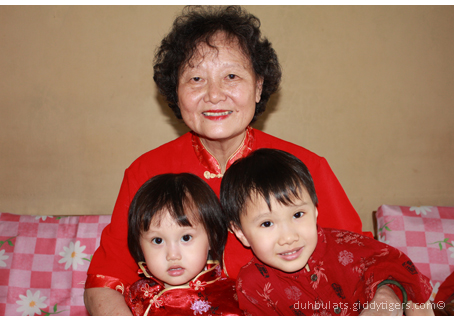 And with both Ipoh Ah Kong and Ah Ma:
…and of course, with Mommy 🙂
We took the opportunity to have a simple birthday celebration for Ethan in Ipoh while we were there too.  He requested for a really really simple chocolate cake with white wordings (yes, he was THAT specific!)
And since cousin Collin was celebrating his birthday around the same time too, we decided to do a dual birthday celebration!
Talk about a major cake overdose! 😛  Obviously the kids didn't mind…here they are, patiently waiting for me to cut the cake and serve them.
And then it was presents time!  Gift exchanges are so much fun when accompanied by hugs and love!
We arrived back in Penang on the 3rd day of Chinese New Year, which coincides with Ethan's Chinese birthday (he was born on the 3rd day of the Lunar New Year).  We had yet another birthday celebration for Ethan, this time at home.  And since we could not get a freshly made cake from any cake shop we inquired from, and also, it was too late to bake a cake for him, Daddy very creatively volunteered to shape the cake we used during the Ipoh celebration into something new (perhaps he'd been watching too much of Top Chef!)…and voila!  Looks a bit like a piece from a jigsaw, if you ask me…
Dinner was pizza delivered to our doorstep, on top of the cookies and mandarin oranges we had at home.  And here's how you should eat a slice of pizza!
Happy New Year everyone!  Hope the Year of the Rabbit will bring you boundless joy and blessings!