Although it would have been a good 2 weeks more before Hannah officially turns two, we decided to have a birthday celebration for her in KL anyway.  This would also make it easier for the "Klang Valley" folks to attend the celebration.  And besides, we were planning a short vacation to KL anyways…one of the reasons being to visit that mecca of storage and organization solutions… 🙂
I was looking for a kid-friendly place to have the lunch celebration, and decided on Marmalade in Bangsar Village II.   I'd read great reviews about this restaurant which offers healthy and delicious food and was looking forward to having lunch there.   Reservations were made like 2 days before the event, and we were very pleased with experience.
The restaurant was abuzz with activity, and as we walked in, who should we bump into but Paik Ling and her family!  Good to meet her again after such a long time, and I was amazed by how much her boys have grown!
And here, we have some random shots taken at lunch:
Ethan *telling* us what he thinks of his Oreo milkshake.
Enjoying Spaghetti Carbonara (for the first time!)
Hannah: Love that dress you're wearing, darlin'….where did you get it from?
Caitlynn: Ooohhh yes, I got it on sale at the *Princess Mall* last month!
Contented in Pauline Korkor/Godma's arms…
Special yummy cookie treat for the birthday girl!  Unfortunately neither Ethan nor Hannah wanted to eat it.  Ethan said, "Mommy, if we eat it, the face will say, 'Ouch! Ouch! Ouch!'"
So Mommy had to eat it all on her own…
And what about the food at Marmalade?  I was in full blogger mode that day, as I tried to capture as many shots of the food as possible… For starters, we had Healthy Nachos, topped with delicious minced beef and melting cheese…really good, especially with the three different dips: guacamole, salsa and sour cream!
We also ordered a plate of fries served with aioli.  Surprisingly, Ethan was very adventurous, and loved the aioli dip (maybe because it didn't have such a strong garlic taste as expected)!  Fries were done to perfection, not too oily and not too soggy.  Just the way I like it.
Of course, the kids' meals arrived first: Spaghetti Bolognese and Spaghetti Carbonara.
Hannah didn't want to eat much (perhaps she was excited about her birthday?), but Ethan ate quite a lot…maybe cuz he wanted to go play in the kids' play area (which I must say is a welcome addition to any restaurant).  I was pretty surprised he was willing to try the Spaghetti Carbonara that day too 🙂 
Drinks we ordered: Day Starter on the left and Paw Paw Passion (Papaya milkshake) on the right. 
Sounds of Havana: a very colorful salad, which tasted absolutely delicious…and of course, healthy to boot! 🙂
I had to order the Spaghetti Pesto with Chicken , which was highly recommended by Rinnah.  And I was glad I did.  The spaghetti was served perfectly al dente, and the combination of herbs and flavors infused into the pasta was simply sublime.
Hubbs ordered his all-time favorite, the Spaghetti Aglio Olio.  Almost everyone who tasted it said it was better than that Italian restaurant we like to frequent in KL.  Maybe because the aglio olio here is cooked in a more oriental way.  Me?  I love both versions!  Yeah, I'm a pasta freak 🙂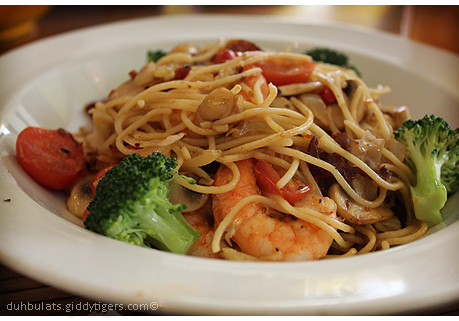 Moroccan Lamb Shank for the lamb lovers…the lamb was tender and very flavorful.  I didn't try the brown rice served with it though, but those who did said it was done just right, and didn't taste anything like brown rice should…whatever that meant. LOL
And finally, we ordered a plate of the Turkey Ham, Bacon and Mushroom Quiche.  I was incredibly grateful I had space in my tummy for this dish, because it was SO good!  Had been ages since I had quiche, so I relished and cherished every morsel.
So after lunch, we headed back to Pauline's house for cake cutting and presents.  This was the cake I baked for Hannah.  We brought it all the way from Penang, with me holding on to it in the car and then setting up the fondant pieces before the birthday song was sung.
The ribbons at the side of the cake were not there initially.  I had to use them to salvage the cake the night before because it was falling apart.  Find out how I saved the cake here.
Hannah's surprised expression was priceless as she saw her favorite character on her cake: Baby Bop.  We had kept the cake a secret from her all this time.  I had shown the cake decorations to Ethan but everytime Hannah was within earshot of us, he would cheekily say, "Hannah – nothing!! hehehe…"
Ethan asked Hannah to say hi to Baby Bop, to which she happily said, "Hi Baby Bop!", while waving her hand.
Hannah was smiling all the way when we sang her the Happy Birthday song.  She even knew how to blow out the candle on cue, without getting saliva all over the cake!  Everyone was SO impressed 🙂
The boys tried to *help* her to cut the cake…
…but ultimately, the birthday girl got to do the honors…
Busy opening presents…
…and being "creative" in using the presents…
** I don't have the heart to throw out the Baby Bop figurine yet.  Just the other day, Hannah asked to let her "touch Baby Bop". SIGH.