On the Sunday morning that we were to leave for Singapore, Ethan decided he wanted to sleep in.  This was very unlike him because he was normally an early riser.  I had arranged for the cab to pick us up at 8:45a.m. to go to the airport but Ethan was still asleep at 8:15a.m.!  So I had to *wake* him up by being rather *noisy* (which isn't difficult for me.. heh).  It worked and he finally woke up.
Unfortunately, our poor boy had a sore throat and sounded like he was about to lose his voice :(.  He had quite a *sexy* voice though, hoarse and all, and no matter how I told him to just not *talk* so much and rest his voice, he kept blabbering onadnon in his own language.  I quickly got him showered and dressed but amid the rush, I accidentally hit his head on the door panel.  O-U-C-H!!!!! A MAJOR bump appeared almost immediately and he started bawling!  I had to put a cold compress to cool it down…thank goodness that worked.  Somewhat.  By that time the cab had already arrived, so we quickly rushed downstairs and headed for the airport. 
Checking in was a breeze and Ethan even had time to explore his surroundings while waiting to board the plane.  I wonder if he knew what an adventure he would be in for, because we were soon on our way to Singapore!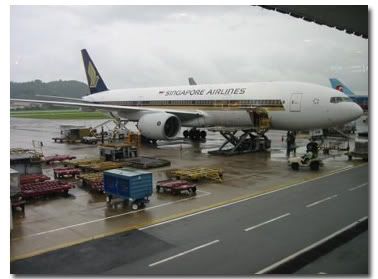 We were allocated the front 2 seats and although there was a space for a bassinet to be put in front of the seats, there was no bassinet in sight….ah well….not that our boy would want to be confined in it anyways.  As expected, Ethan was VERY restless on the plane.  Before takeoff he was wandering along the aisle and checking out everything in sight: seat pockets, magazines, flight attendants….. 😛 
The plane was relatively empty, so we had the adjacent seat available too.  Ethan wasted no time in testing that out.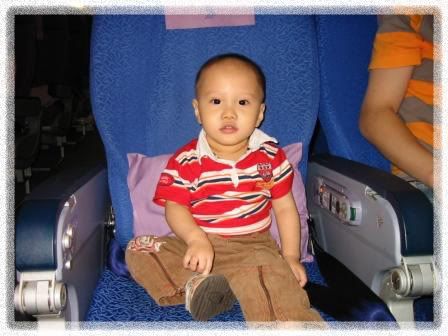 SIA presented Ethan with a goodie bag with a Dora the Explorer toy, a bib and a couple of diapers… nothing he was impressed with, unfortunately.  I was given the child safety belt, which needed to be attached to the adult lap safety belt and then fastened onto Ethan with him on my lap.  Do you think it was easy to make him sit still?  Absolutely not!  So in the end, I had to breastfeed him during the takeoff and landing (which would help lessen the change in pressure in the child's ears actually). Ethan must have been reading the guide to travelling by plane with a baby, because he immediately asked to be breastfed upon takeoff and landing!  Haha.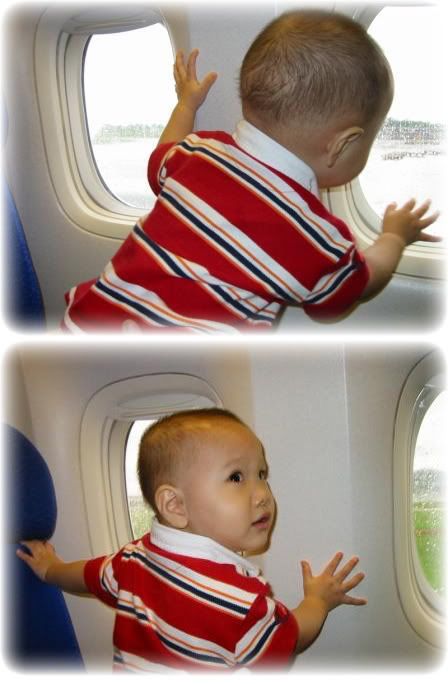 During the flight, Ethan was given the post-weaning meal, which surprisingly consisted of MORE food than an adult's!  We adults only had a pizza roll and juice, but Ethan had 4 slices of sandwiches, a piece of cake, a fruit tart and a whole box of fresh milk!  He didn't want any of it though, preferring instead to sip our apple juice.  The fresh milk went to my tummy because Ethan only took a couple of sips.
We arrived in Singapore and Ethan was immediately enthralled by the walkalators and escalators (no surprise).  After filling up the immigration forms we queued up in line, but since Ethan was restless and screaming, the very nice immigration officer ushered us over first.  Talk about priority for those with kids! Hehehe…..
We then collected our luggage and decided to have lunch in the airport.  Our original plan to go to Burger King did not materialize because Ethan was still having a sore throat and furthermore, a quick check in the Burger King outlet showed that there were no baby chairs in sight.  We decided to try a new restaurant instead:  The Soup Restaurant. 
Serving a Chinese meal of steamed rice, Samsui ginger chicken, fish and of course boiled old cucumber soup, the meal was absolute perfection!  Ethan too enjoyed it very much, judging by the way he kept asking for more.  He was even given his own plate and spoon!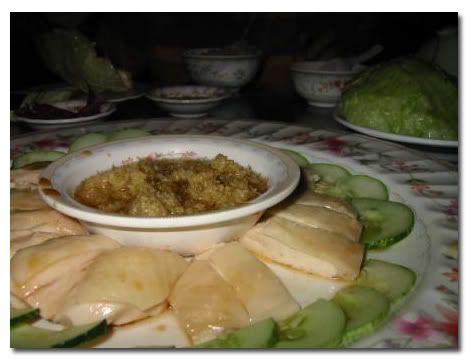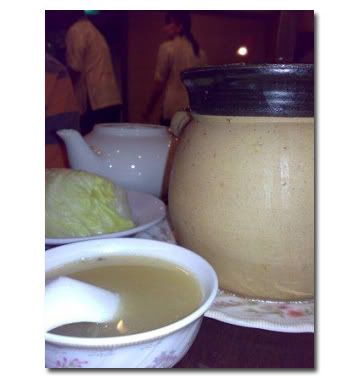 After the scrumptious lunch, we took a cab to Perak Hotel in Little India, which was going to be our *home* for 5 nights.  I was very impressed that although our cab driver was not familiar with the location, he had a GPS system installed in the cab! Upon checking in, Ethan began checking out the room.  He immediately went over to the full length mirror and kissed his reflection in it!  How cute was that!  He was also very fascinated by the door of the washroom and kept wanting to close it for us.  Believe me, his fascination went on for the entire duration of our stay.  Hehehe…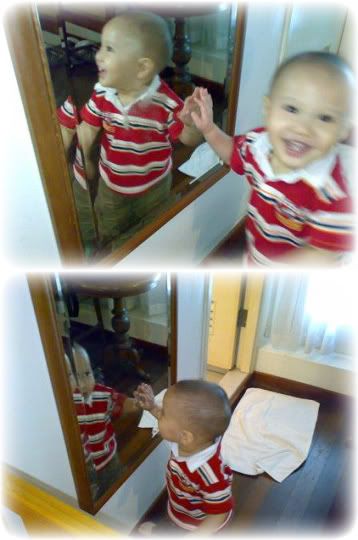 Unfortunately, another mishap happened in the hotel room.  As Ethan was playing near the side table, his hand slipped and he fell, cutting his chin slightly on the edge of the table.  I was both horrified and mortified to see blood oozing out from his wound!  Quickly I took him to the sink to wash the blood off and yes, I admit it, I was in a state of panic and near-hysteria.  Thank goodness for Pete, who was the absolute picture of calmness, we managed to get the situation in control.  And thank goodness Ethan was all right.  After washing up, surprisingly he remained fearless and kept going back to the site of the *disaster* despite us telling him "NO!"… SIGH.
Anyhow, we rested for a bit and then walked to a nearby bus stop to take the bus to Suntec City Mall.  Pete and I were craving for Tony Roma's Ribs and we knew there was a branch there. 
The last time we had Tony Roma's was in the States and that was years ago.  We were eager to indulge ourselves yet again and it was on our agenda anyway.  And indulge ourselves we did.  Pete and I ordered the Appetizer Sampler (Fire Wings, Potato Skins and Mozzarella Sticks) and because we were undecided on the ribs, we also had the sampler, i.e. Tony Roma's Star-Studded Sampler.  Yummylicious indeed!  The Star-Studded Sampler had the Original Baby Back Ribs, Carolina Honeys, Red Hots and Blue Ridge Smokies.  Of the four, the Baby Backs were the best and were absolutely to die for – they were every bit finger-licking and lip-smacking good! 
We were given a table that overlooked a beautiful koi pond, and that helped keep Ethan entertained. 
I ordered the Baked Potato Soup for Ethan and he ate it together with his favorite rice 🙂  The soup was a meal in itself, consisting of baked potatoes, Cheddar cheese, bacon and spring onions.  After he has had a mouthful of anything he likes, I taught him to say "Mmmmmmmm…."….and he does it with finesse!  I could tell he really enjoyed his dinner at Tony Roma's.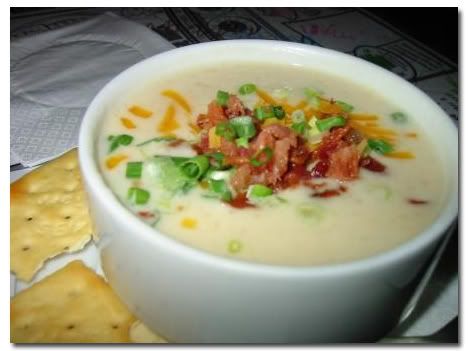 He was also given a piece of paper with crayons to practise and learn coloring….. never too young to start, eh?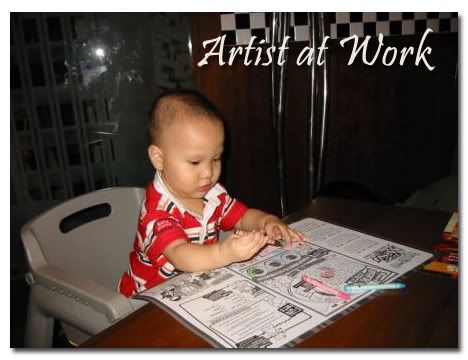 In fact, the fun did not end at the dining table.  He even had a field time playing with the sensor-enabled paper dispenser in the washroom.
After dinner, Ethan demonstrated his latest milestone achieved: Waving buh-bye on cue.  All this while, he only waved buh-bye to the baby sitter, but now when we say "Buh-bye" he would wave voluntarily, throwing in a cute smile for good measure.  Sometimes we have to prod him to wave by waving along but ultimately he will still wave.  So he waved goodbye to the waitresses and we were on our way.
We window-shopped a bit and then headed back to the hotel.  Fortunately Pete managed to convey the message to the cab driver in his whatever broken Mandarin he could muster and soon we were snoozing away, dreaming about baby back ribs and the excitement the next day would bring.