When Pete and I found out that we were gonna relocate to the States for several months, we were excited about the opportunity presented to us as a family, and most of all, we were ecstatic about the grand experience Ethan was gonna get.
One thing that *kinda* worried us was how Ethan was gonna handle the long 16-17 hours' flight.  If he decides not to sleep, we are really done for.  So we prayed for the best 🙂
The flight to Changi was okay, and as expected Ethan was all smiles (and energy) as soon as we landed in Changi airport.  We had a transit time of about 5 hours there, so we took our time exploring the airport, making a few pit stops for Ethan to play in the various play areas strewn across the airport.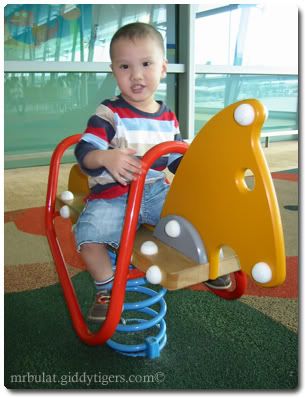 I must say that I am extremely proud of my little boy for he was able to let me know when he wanted to poo, and I would then bring him to the toilet 🙂
…although it WAS a challenge to pull him away from the play areas…
There were plenty of other attractions at Changi airport too, and Ethan really enjoyed himself looking at the koi ponds…
…and a Butterfly Garden too!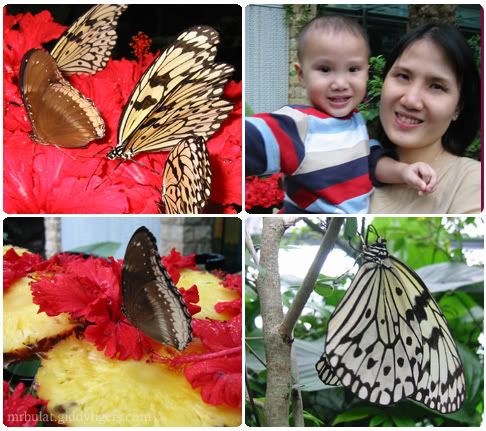 Our flight was from Singapore to San Francisco, but we had a short stopover for refueling in Hong Kong.  And right before we boarded our flight from Singapore, our little boy fell asleep, all the way till we boarded and took off, and he only woke up in time for his meal.
In Hong Kong, while having our one-hour stopover, we had to coax Ethan to drink his milk, but all our energizer bunny wanted to do was to run on travellators.  Of course, in the course of coaxing, he threw his tantrums, but thankfully, right before we reboarded the aircraft, he decided to finish his milk.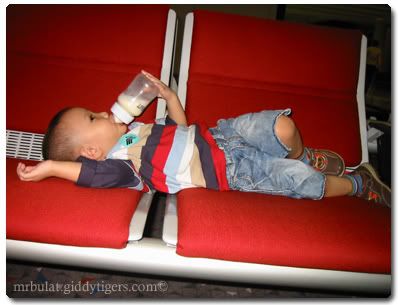 Well, the HK-SFO connection was the really long one which we were worried about.  But our prayers were answered, as Ethan fell asleep a little after we boarded and slept through for about 9 hours straight.  For Ethan, the economy class seat was like business class, but for us, it was CRAMPED.  We tried to request for the front-most seats with more leg room, but we only managed to get the one in the second row.  It didn't help that the person in front of Pete and me lowered their seats slightly, and throughout the night, it was either Ethan's head on my lap and his feet on Pete's lap, or the other way round.  We learnt new forms of contortionism, I tell ya.
Ethan woke up just in time for his meal right before we landed, but unfortunately he would not take much of it…only the fruit yogurt appealed to him.
But we landed, made it through immigration, collected our luggage and headed for our apartment.  We had takeout *dinner* at midnight-ish, and then Ethan went totally excited with the new apartment, complete with TWO bathtubs!  He played around, and only fell asleep at about 3:30a.m.  In fact, we were rather worried we would get complaints from our neighbors downstairs, what with the jumping and hopping around.
And so our adventure has begun….. 🙂