Whenever Daddy travels away on a business trip, we all miss him dearly.  But on the flipside, the kids and I really look forward to spending some top-notch quality time with Ah Ma and Ah Kong from Ipoh.  You see, my parents will try their very best to come and accompany Ethan, Hannah and me in Penang during Pete's absence, and I am eternally grateful for the "extra hands" they lend 🙂
The kids enjoy the story-telling sessions and the undivided attention they get from Ah Ma and Ah Kong, and likewise, I would say the reverse is also true. 🙂
Sometimes, if the timing is right, we will also take a drive down to my hometown in Ipoh for a short holiday.  The kids enjoy their time spent with their grandparents and they get to do a myriad of activities in Ipoh too.
Well, we recently had this golden opportunity again, and even though Ethan kept asking if we had arrived yet, all the way from Penang to Ipoh (Hannah was fast asleep, naturally!), both the kids were overjoyed when we finally reached our destination…would have reached earlier had I not been delayed by a police roadblock, where I was flagged aside and asked to show my driver's licence…not for speeding, rather it was a random check that was being conducted.
Anyway, I digress…
We spent 4 days and 3 nights in Ipoh…so what did the kids do to occupy their time?
Look how simple it is to keep kids entertained (albeit for only a short period of time).  The Ipoh City Council is using the parking coupon payment method, where we need to scratch out the date and time on a coupon and then display it in the car when we park.  Ethan and Hannah then used these used coupons to further scratch out the rest of the numbers, using coins.
Look how engrossed they were… 🙂
The kids enjoyed taking their baths with a scoop container too!  With the weather being so hot, a cool bath definitely helped to lift their spirits and upped their energy levels.  There was no problem whatsoever when I announced it was time for their baths.
In Ethan's words, he said, "Wow Mommy…it's SO cooling, I love it!"
Ethan's favorite computer game in Ipoh is Solitaire.  I was incredibly amazed at how fast he picked it up and soon was able to play on his own.  He was so impressed when he completed his first game ever…announcing to everyone, "Look!  I made mountains with it!!  I win!"
We all have been there and done that now, haven't we?  Maybe it's time to introduce FreeCell to him 🙂
While walking around in Kinta City, we came across a height and weight machine, and Ethan remembered that I had asked him to remind me to measure his height and weight.  And of course, if Ethan gets on it, so will Hannah…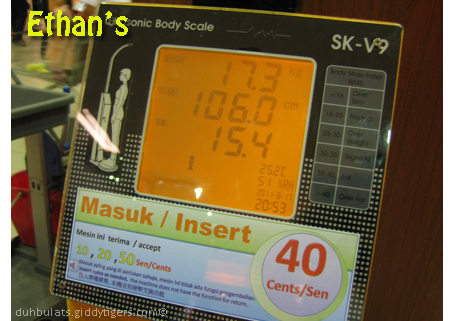 I'm happy with their height and weight, especially since their BMI readings showed that both Ethan and Hannah were in the healthy zone. 🙂
Lastly, of course, any vacation is incomplete without the presence of good food.  Although this time round I did not get to eat the usual Ipoh fare, the kids did enjoy the yummy food.
Hannah discovered a love and appetite for wan ton mee, especially the one Ah Kong ordered from the hawker that rides past the back lane of the house.  Great tasting food that comes straight to your door, who could ask for more?  I was surprised she could eat half a plate all by herself, including the wantons!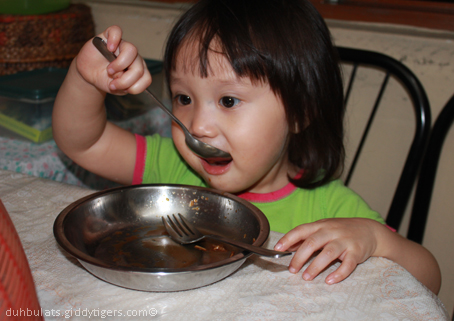 At the special buffet lunch at Excelsior Hotel, Ethan and Hannah had fun *making* and *creating* their own signature dishes…and tasting them too, of course!  They were excited because I told them it would be just like in MasterChef!! 🙂
Here's Ethan tasting his version of koay teow soup:
Hannah eating her own creation of "ABCD" (I had told her it was "ABC" but she added the "D" in herself!):
…and Ethan wanted a go at making his version of ABC too…but he ended up drinking "strawberry soup" instead!
We all sure had a good time in Ipoh 🙂  Thank you Ah Ma and Ah Kong for the excellent hospitality!  We look forward to more visits and enjoyable times soon! 🙂