One of the first things we prepared before Day 2 was to get our ez-link cards to use on the MRT and the buses in Singapore.  Kids up to 0.9m in height can travel for free, and Hannah just barely made it 🙂  However, for preschoolers over 0.9m and below 7 years old, like Ethan, we got him the Child Concession Card, which entitled him to a 50% discount on all fares.  Of course, Ethan was all happy and felt grown-up when he could also tap his very own card and walk across the gates.
On Monday morning, armed with our day backpack, camera and loads of energy (somewhat), we made our way on foot to the nearest MRT station near Bernard & Pei Ling's house…..but….halfway there, Pete turned around and asked,
Pete: Did you bring the (Bird Park) tickets?
Me (giving him a blank stare): Nooo…..I thought they were in your bag!
So while the kids happily whiled away their time playing in the play structure in one of the HDB flats, I walked back to the house to get the tickets.  It was a little extra exercise for me, and we haven't even gotten on the train yet!
We had actually left the house quite late and when we boarded the MRT it was close to lunch time.  So we decided to stop at Jurong Point Mall for lunch…instigated by pictures of Burger King's food in the MRT too, actually!
Ethan was busy looking at the MRT map and telling his sister which station would come next and which station we would get off.
…and finally we arrived!
It was our first time at the Jurong Bird Park and one of the highlights the kids wanted to go to was the Lory Loft Feeding.
"Mommy, Mommy, can I feed the birds?" Hannah would ask, and hold up her hands as if holding the bird feed.  But when we arrived, as soon as I was handed the sweet bird feed in the little plastic cup, I daresay at least 4 or 5 lory birds swarmed towards me and started eating from the bowl.  The kids would not hold the bowl, and they were visibly afraid.  We tried to cajole them into feeding the birds, but the most we got was them touching the feeding bowl together with Daddy (missed the chance to take a picture though. Boo.)
Other pictures from our enjoyable Bird Park trip:
It was a hot, hot, hot day that day (contradictory to the weather forecasted then), and the kids had their Kidz Banz sunglasses to protect their eyes (and look cool at the same time)!
Yup, those came in handy especially when we were watching the Bird Shows…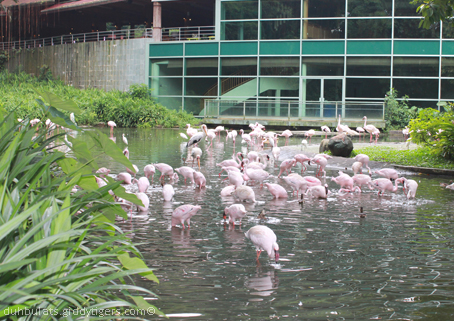 As you can see, there were lots of pretty, colorful and interesting birds to see…and we all had tons of fun!
…at Dino Dig, where kids can pretend to be archaeological experts or little paleontologists and look for fossils and hidden relics in the sand.  Very cool!
…and possibly the kids' favorite part of the excursion: the Panorail ride!  It's like a train that goes around the Bird Park but it's high up above everything, so you get a panoramic view of the surroundings.  We got unlimited rides because it was past 2p.m….see? Latecomers have privileges too! 🙂
The main reason the kids loved the panorail was because it is AIR-CONDITIONED!! 😀
Here's the photo that caused us to miss our bus back to the MRT station by a few seconds!  I just had to take a picture of this rare multi-finger banana plant (forgot its name, but will google it later).
We reached Bernard and Pei Ling's place after dinner and then made our way to our hotel near Orchard Road.
Here they are, at the end of the day, all ready for bed, and relaxing in our room at Traders Hotel, playing on Daddy's iPad.  Traders also had free wi-fi – hurrah!! 🙂
We were tired out, and were eager to rest for we knew the next day would bring another new exciting adventure! 🙂
*****
Previously: Day 1 Singapore Getaway: Southward Bound and the Marina
Next: Day 3 Singapore Getaway: Singapore Zoo & Chicken Rice Dinner