When I mentioned that we were heading back to Malaysia from Massachusetts, I just *might* have left out one eenie-weenie detail about our trip. 😀
You see, our first flight was a 5-hour-or-so one from Boston to Los Angeles, and we decided to give the kids a treat by taking them to Disneyland for a few days while we were there.
Believe you me, it was a decision Pete and I had been discussing back and forth several months before.  We weighed the pros and cons, taking into consideration the transportation aspect, as well as the commute and accommodation.  Finally we relented, and decided that this short holiday at the Happiest Place on Earth would truly be a memorable one for the kids.  It would be worth every hassle and every obstacle we might face.
After a one-hour shuttle ride from LAX to Anaheim, we checked into our hotel at about 10p.m. that night, had a really quick dinner/supper and called it a night.  Everyone was tired but excited about the following day.
Hannah woke up super early and whispered eagerly, "Today we are going to DISNEYLAND!"
She flashed me the widest, biggest smile EVER.  It was the most rewarding thing.  And it wasn't even 6a.m. yet!
Here are some of our pictures taken at Mickey Mouse Land…. 🙂
We had a room on the 7th floor in Fairfield Inn, Anaheim.  It was quite a high floor and a great location.  We could see the nightly fireworks from Disneyland from our room if we'd wanted to (we saw a bit of it the night we arrived), and the walkway on our hotel floor's balcony overlooked this:
Ain't that festive?
We had booked a room at this hotel because it was one of those that was just walking distance from the entrance of Disneyland.  It took us about 15 minutes just to get to the park, and we loved the location and convenience!
Plus…we managed to get a complimentary upgrade to a Disney-themed room!  They had rooms with Disney Princesses themes, Cars themes, Toy Story themes, you get the idea….What we got was the Mickey Mouse themed room!  Complete with Mickey Mouse wall decals, and Mickey Mouse framed pictures, down to Mickey Mouse bed runners, it really helped set the mood!
For our first day at Disneyland, we all wore Disneyland-themed shirts, even baby Emma.  All of us, in fact, had Mickey-themed shirts except Daddy.  We couldn't find anything Mickey in his size, so he wore a Goofy shirt instead!
Compulsory shots when visiting Disneyland:
We had fun on all the rides!  The waiting in line wasn't too much fun though, but somehow the waiting time wasn't too bad.  Most of the time, we managed to get on after about 20 minutes or so of waiting time.  I could only ride with the kids when Emma was fast asleep.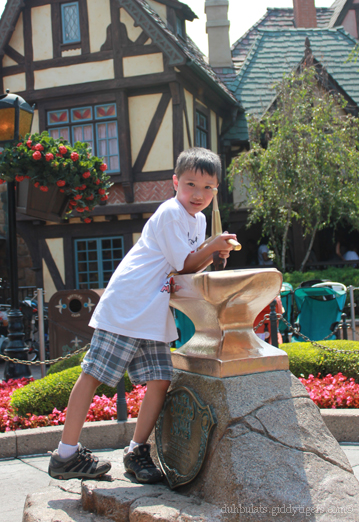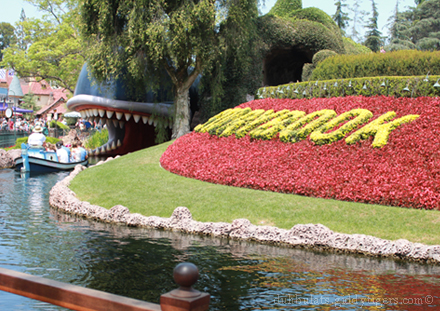 Hannah being all girly-girl…posing for the camera is definitely more FUN than looking at the map…that's what BOYS are supposed to do! 😀  Here we are, waiting for one of the Disneyland performances to start.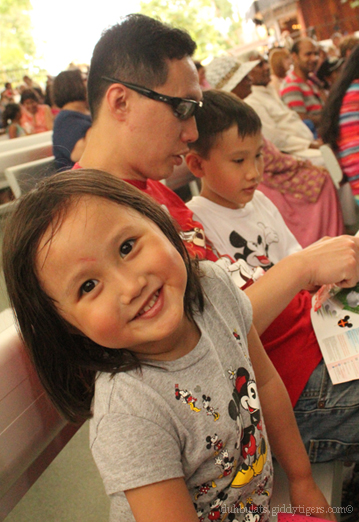 Hannah managed to have her picture taken with her favorite Disney princess: Princess Jasmine!  Major "star-struck" moment there!
The awesome thing about Disneyland is that there are plenty of family rides; rides that even babies like Emma can ride with us.  She went on boat rides…
… and the ride that the kids thoroughly enjoyed: It's a Small World.  Emma went on this one twice; the first time, she cried non-stop but the second time, she was the perfect angel. 🙂
Hannah said, "Great job, Emma…see?  That was a fun ride, right?"
Sometimes it would amaze me that all THREE can fit into one ride… hehehe 🙂
And sometimes, although Disneyland is the happiest place on earth, we found out that not everyone can be happy at the same time… (Hannah is pouting because she wanted to sit in front in this Alice in Wonderland ride):
We also had loads of fun spotting characters and taking pictures with them.  Hannah would always want to "meet" these characters…
…trying to sit on Pluto!
…and finally saying thank you and goodbye with a BIG HUG!  (Everybody say, "Awwwwwwwww……..")
Never leave Disneyland without a photo with Mickey and/or Minnie 🙂
Some photos from the Disney parade:
…and some from Downtown Disney, where we discovered a Lego store with amazing Lego creations.  I believe it's called the Lego Imagination Center.  My kids are really into Legos now, so they were thrilled.
Hannah with a huge Olivia Lego creation, from the Lego Friends collection:
Ethan and Hannah with Gandalf:
The Lego Imagination Center store had a giant Dragon Maleficent structure, built entirely from Lego bricks, right on its rooftop!
After dinner, we headed back into Disneyland to capture the magic of the nightly fireworks display.  The kids were really tired by then, though, and Hannah fell asleep halfway through the display.  Pete had to carry her back home to our hotel: not an easy feat, mind you! 😀
We were tired out and welcomed the cool comfort of the hotel room, as we rested and recharged for another fun-filled day the following day.
Next:
The Layover – Day 2: California Adventure Park
The Layover – Day 3: Saying Goodbye and Heading for Home