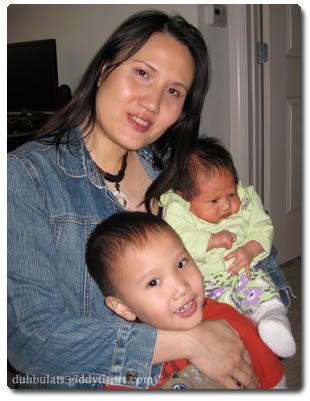 We celebrated Hannah's full moon sans the traditional full moon set of the red chicken eggs, angkoo and turmeric rice.  We figured we would have those done during her first birthday instead, since we would be back in Penang then and we would also be able to distribute the full moon sets to relatives and friends.  So for her full moon celebration, we just had a simple lunch in our favorite Layang Layang restaurant.
The adults all enjoyed the food while little Hannah also enjoyed her meal when she decided it was feeding time during our lunch!
After lunch, we drove up to Pier 39 in San Francisco, where it was really springtime in full bloom!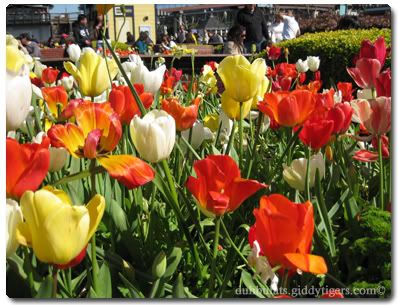 Everyone was eager to take pictures with the pretty flowers and hoarding almost all the photo spots, it was almost impossible to find a good spot.
The weather was sunny but chilly and windy, and at times I had to just hold Hannah close to keep her warm and comfy.
Ethan had fun looking at the sealions and after that, he asked to go to the merry-go-round!  Wow…he remembered!
This time though, he could ride on his own…and daddy, who was accompanying him, even got to ride on a horse by himself! LOL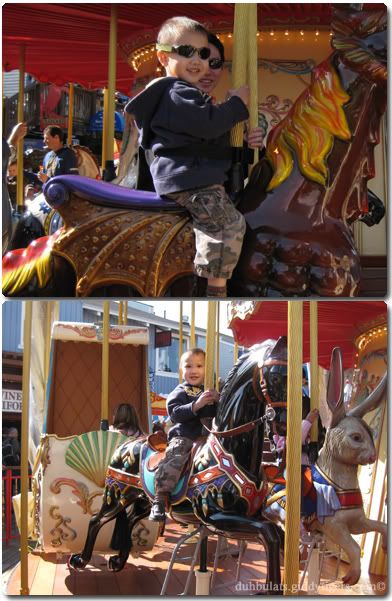 Ethan rode on the merry-go-round twice, and if we hadn't stopped him, I bet he could be riding the whole day long too!
And while all this excitement was happening, Hannah was oblivious to her surroundings, being kept cozy in a snuggly warm baby sling.  I'm still quite the novice at baby-wearing though, having only worn the sling with Ethan when he was a wee babe, but Hannah seems to be enjoying it, no?  Look at how peacefully she's sleeping!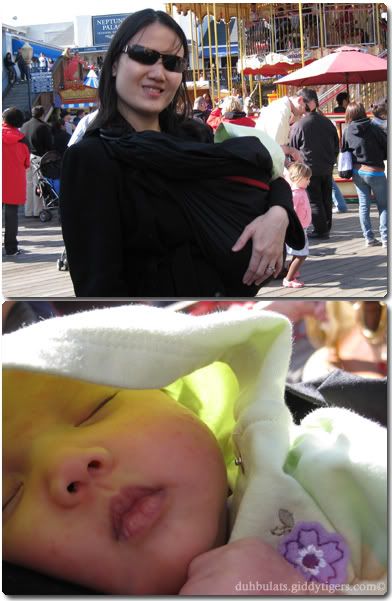 Oh, and of course we didn't forget to do our usual routine of Boudin clam chowder before we bade farewell to Pier 39 that day.