You are currently browsing the monthly archive for July 2009.
Here's Ethan doing the downward-facing dog pose: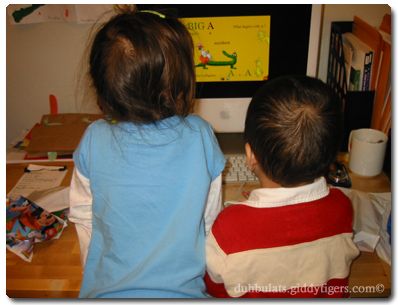 During our past 9 months or so here in San Jose, Ethan has definitely enjoyed a tremendous time here.  And while we are in the midst of all our packing, I do think it is inevitable that Ethan will miss the precious time and the fun he had at daycare when we leave.
From a rather shy and not-too-many words little guy, Ethan is now talking non-stop, complete with a mind of his own!  His confidence has skyrocketed, although he sometimes still is a little shy with strangers.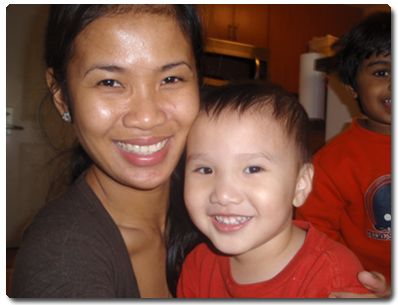 He has learnt SO many new things at his daycare: singing, dancing, reading, counting, adorable expressions, good manners…the list goes on.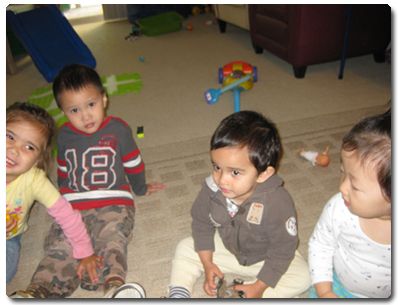 He's also made many womderful friendships.  Wouldn't it be cool if these kids were to meet up again a few years from now?
And I bet he also learnt a few things about how to be a good big brother too!
Yes, Ethan will definitely miss daycare here, but I am just so very thankful that he at least had the splendid opportunity to experience it.
And now, I just pray that we can find a good daycare back home that Ethan will love just as much.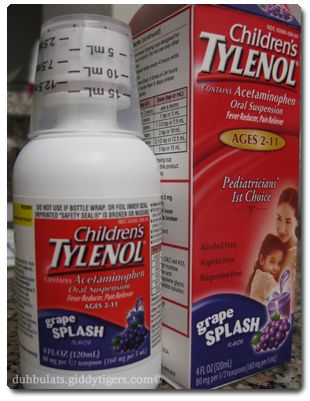 It has always been a struggle to feed Ethan medicine.  Back when he was still breastfed, I would just rely solely on breastfeeding to get him well.  But when he was weaned, I dreaded it when he became ill.  Usually, we just let nature take its course and he would eventually get better.  Most people say that over-the-counter medicine for kids in the US are more palatable and hence, we should buy some to take home with us.  Medicine that comes in various kid-approved flavours like cherry, bubble gum and grape definitely appeal to kids.
Well, most kids, anyway…but not Ethan.
Ethan has been coughing for several weeks now.  The problem is he refuses to drink a lot of water AND he refuses to take medicine.  We bought a bottle of Tylenol in GRAPE flavour.  And although the mixture tastes really good, just like concentrated grape juice and nothing like the yucky tasting Rhinathiol or Polaramine, Ethan would have none of it.
We forcefed him this Tylenol Grape a few times, or rather we *tried* to feed him with it, but he would just spit it all out.  Even though the characters in his favorite Dr Hippo books drink Grape medicine when they are sick, Ethan does not want to follow suit.
Now, our typical conversations would go like this:
Daddy: Ethan do you wanna drink GRAPE?
Ethan: No!  I don't want it!
Daddy:  You have to choose: either drink Grape or drink water.
And of course he would gladly drink the water.
We tried to add the Tylenol into his chocolate milk a few times, but after just the first time, he suspected we had added it in, and he told me, "I don't want grape Mommy!"  And he would stand behind me as I poured the chocolate milk for him, just to make sure I did not add anything else in.
Sigh…
He is still coughing though, but I guess we have to wait for him to heal himself.  Here's what we go through every day:
Ethan: (coughs)
Daddy: Are you still coughing, Ethan?
Ethan (shaking his head): Nooo…I'm NOT coughing Daddy…
Daddy: You just coughed Ethan.  You have to drink Grape!
Ethan: No Daddy.  I don't wanna drink Grape Daddy.
And then today…
Hannah coughs.
Ethan: Hannah coughing?  Drink Grape!
Mommy: (coughs)
Ethan (immediately): Mommy, are you coughing?
😛
Looks like our bags will not have bottles of grape-flavored medicine then!
I have no doubt in my mind that Ethan will miss Gilroy Gardens when we get back home to Malaysia.  Almost every weekend, when we ask him where he would like to go, he would exclaim, "I wanna go to Gilroy Gardens!"  It's a good thing we decided to get the season pass (Lotsa Card) so we could enjoy unlimited entries into the theme park.
Well, last weekend, we made our final trip to Gilroy Gardens before we head back to Malaysia.  As soon as we turned into the theme park, Ethan said, "I see it Mommy!  I see the Gilroy Gardens signboard!"  Yup, he was THAT excited.  He even started dancing to the music before we entered the theme park.
Because it was our last visit (for a long time anyway) there, it was as if Ethan could feel it too, and he wanted in on as many rides as possible.  Normally he would bypass the race car ride, but that day, he insisted on getting in.
And when we were ready to take the choo-choo train ride, Hannah was awake, so for the first time, our little family got on board the train together.  There were only a couple of rides that allowed infants on, and the train ride was one of them.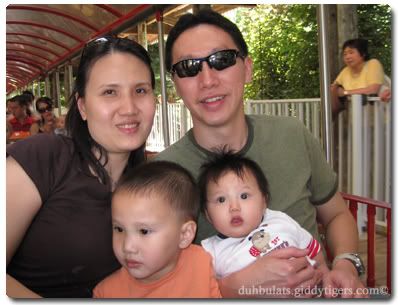 The hot sunny weather was the perfect recipe for a good splashing time in the sun.  And that's exactly what Ethan had.  There was this water squirting area where the kids could play in the water, and Ethan had a jolly good time there.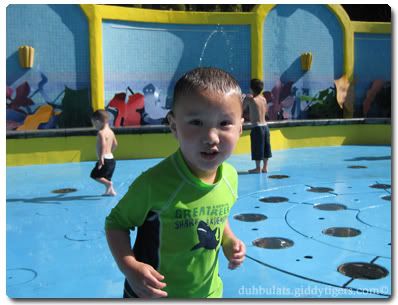 It was a fantastic day at Gilroy Gardens, and for what it's worth, I think I am gonna miss this place too.
Goodbye Gilroy Gardens!  We hope to come back again next time!
 
Scrap Credits
Little Corner QP freebie from Cardamome
Happy Go Lucky Number 4 from Shabby Princess Designs
Numb3rs Alphas from Sweet Blossom Designs
HoldEmUps from Tara Dunstan
We took Hannah for her 4-month checkup yesterday, just in time for me to post an update on her milestones (yeah, it's all part of the plan).
Weight
7.569 kilos (16lb 11 oz)
Height/Length
64.8cm (all that stretching paid off!)
* Note: Hannah's pediatrician commented that Hannah is growing beautifully
Motor Skills
Our little supported sitter is making more and more attempts to roll over.  If I place her on her back at an angle, she can roll her body over.  Won't be long now!

Lifts head 90 degrees when lying on tummy or does a little push up sometimes.

Making "rasberry" sounds with her lips.

Grasping objects within her reach with incredible strength: mobile toys, toys given to her by her brother, my shirt, my hair, my fingers.

Can "bear weight" on both legs when we hold her to a standing position.

Salivating has increased.

Brings many objects to her mouth, including our hands!
Communication and Social Skills
Lots of repetitive sounds, high-pitched squeals and adorable giggles and sounds are made now.

Very sociable, smiles a lot when spoken to.

Looks at us very intently.

Beginning some separation anxiety.  As I am the one who is always with her, she sometimes cries out when she doesn't see me.  Sometimes she would be happily playing but will cry out when she sees me! 😛

Ticklish.
Others
Sleeping through the night more often now, but occassionally still awakes for a feed.
Food and Feeding
She is 100% on Mommy's milk.  Less regurgitation, but of course, needs to be burped after every feed (otherwise she complains).  Hannah is not at all on the bottle, and we are contemplating moving her to the cup right away when she is six months, probably.  We'll see.
Reasoning
Daddy: Is Ethan a boy or a girl?
Ethan: A boy!
Daddy: Good!  What about Daddy? Is Daddy a boy or a girl?
Ethan: Daddy is a boy!
Daddy: Very good!  Is Mommy a boy or a girl?
Ethan: Mommy's a girl!
Daddy: What about Hannah?  Is Hannah a boy or a girl?
Ethan: Ummmm….ummmm…
Mommy: Hannah's a girl!
Ethan: No!  Hannah's a BABY!
Authority
Mommy: Ethan, let's go take a shower!
Ethan: No, Mommy, I don't want it!
Mommy: You gotta go take a shower Ethan, you wanna be clean, right?
Ethan: No Mommy, NO! Go sit the naughty stool!  Don't do it again, okay, Mommy?
Customization
Daddy (playfully to Hannah): Who's your Daddy?!
(Hannah smiles happily)
Ethan runs really quickly towards Hannah.
Ethan: Where's my Ethan?!
Daddy: Who's your Daddy?!
Ethan: No no Daddy, stay right there, okay?
Ethan (to Hannah): Where's my Ethan?!