You are currently browsing the monthly archive for August 2009.
These precious smiles that greet me in the morning makes it all SO worthwhile…
 Scrap Credits
Brown Paper Packages paper from Yin Designs
"Cherry Cheesecake" alphas from A work in progress
Sistafriend freebie frame from Flergalicious
Hannah had her 5-month checkup with Dr Jessica back in Penang.  She took her 3rd dose of the Pneumococcal vaccine too.  Unlike her brother, Hannah laid down quietly on the scales as her weight was being read.
Weight
8.1 kilos.  About 98 percentile on the graph :O  
Height/Length
Not measured, but sure seems like she has grown longer!
Motor Skills
Able to roll over at 4.5 months!  Ah, the beginning of mobility.  She started to roll just on the right side, but now she can do both right and left and then back again!  Diaper changes are definitely VERY challenging now!
Hannah has also started to push forward by lifting her butt and inching her way forward (sometimes backwards!).  If she doesn't succeed in moving forward, she will just move around in circles.
Head support is quite steady now.  She can now sit comfortably in her Bumbo.  However, just like her brother, most of the time she will treat the Bumbo as her potty.
She can be amused by hanging toys for longer periods of time now.
She can play with and hold on to a toy and eventually suck on it.
She can hold both her feet at the same time.
She can sit on her own for a few seconds by bending her body forward and supporting herself with her arms.
She can raise her chest with arm support while lying on her stomach
Communication and Social Skills
Giggles a lot.
Loves to watch her brother and laughs at him.  I think she adores Ethan.
Can more or less respond to her name when called.
Can recognize faces better now, and is forever looking for Mommy.
Babbles a lot, and is VERY responsive when spoken to.  She smiles and coos.
Loves to be massaged.  She gets a body massage after her evening bath, which includes, hands, legs, chest and tummy and her face too!
Loves to get her hair combed.  Will lie very still and appears to be enjoying every minute of it.
Others
Sleeping through the night more often now, but occassionally still awakes for a feed.
Food and Feeding
She is 100% on Mommy's milk. Drinks EBM from a toddler sippy cup and refuses the bottle.  Milk intake has increased apparently.
Hannah watches us intently when we eat.  Looks like she is quite ready for her intake of solids milestone next month!
It must be because of the excessive amount of time he spends with both Hannah and me.  Ethan has certainly started to display some form of inevitable sibling rivalry and jealousy.
It all started about a week after we touched down in Penang.  Pete had started work then, and I was still in the process of looking for a daycare for Ethan.  So meanwhile, both kids would be at home with me 24/7.  At first it was all right, although it was quite difficult for me to juggle cooking, cleaning and caring for both kids at the same time.
But then I think Ethan got a bit bored with staying at home all the time.  He started his tantrums and his whining.  And when I breastfed Hannah, he would say, "No feeding Hannah, Mommy!  Let me close it!" and proceed to *help* me "close up" my blouse.  On the contrary, when we ask him, "What does Hannah drink then?", he'll reply, "Hannah drinks milk!"  By the way, he does NOT forbid me to feed Hannah when Pete is around.  And he did NOT forbid me to do so when we were in the States.
Also, Hannah is in the drooling stage right now, so whenever Ethan sees her drool, he would say, "No spitting, Hannah!"  Sometimes he would use his fist and sort of hit her on the head or the chest.  It's hard to see this happen, and I always try to gently but firmly tell Ethan, "No hitting Hannah, Ethan.  It hurts her, okay?"
And when I pick Hannah up, Ethan would ask me to carry him too!  He'd ask me to "Put Hannah away, Mommy!"  But when I put her down, he will be busy playing with his toys.  I try to *entertain* him at home as much as possible with stuff like coloring, water-color painting, and his favorite videos, but Ethan is at that age where he wants to assert his individualism and independence at the same time, hence the "No!"s that abound time and again.
So beginning August, we decided to put Hannah with Ethan's ex-sitter, Mrs Tan, for about half a day, just to see how she copes.  At least I would have about half a day to run some errands and find a daycare for Ethan.  I was a little worried about Hannah not taking any milk while away from me, because she does not take to the bottle at all.  Well, anyway, after a few days, I decided to start her off on the regular toddler sippy cup and I am happy to say she is drinking well now.  Psst….might need to get rid of her bottles soon! 🙂
With Hannah away for half a day, we managed to get Ethan started on halfday daycare at a nearby center.  He is currently at the tail-end of his two-week orientation and will begin regular halfday daycare when the new school term starts in September.
That aside, the sibling rivalry still exists and I forsee it will be around for some time still.  Lately he has also started to say, "No crying Hannah!" or "No laughing Hannah!"
But at the end of the day, sometimes Ethan surprises me and does loving big-brotherly things like holding Hannah's hand while he falls asleep. 🙂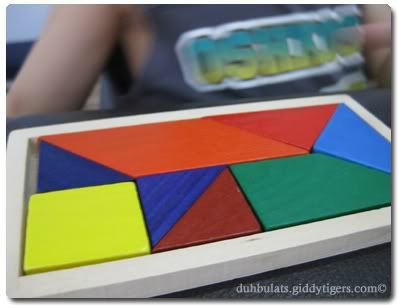 And that's just one of the things he busied himself with while we were cleaning our apartment back home…amazing, ain't it?
A little less than a month ago, we (literally) packed our bags and left our San Jose apartment.  I admit that I felt a little sad to leave the place, but honestly, I didn't have much time to dwell on it because we really had to hurry through all the packing.  Coupled with the fact that little Hannah decided to attain her personal milestone of rolling over on that very same day we were to leave, we virtually had to pack while making sure she was safe 🙂
I think Ethan had no real inkling as to what was happening when he said goodbye to his friends at daycare though.  He was still all jovial and boisterous. 
And with all the rushing, we managed to make it to SFO and checked in about ONE hour before takeoff!
It was also our first time flying with a stroller, and both the stroller and the infant carrier had to be stored separately in the aircraft.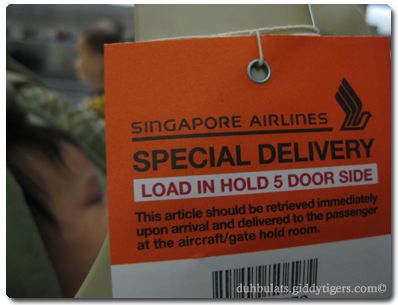 This time we managed to get the front row seats because Hannah was provided with a bassinet.  Front row seats means more leg space for us and more running-around space for Ethan!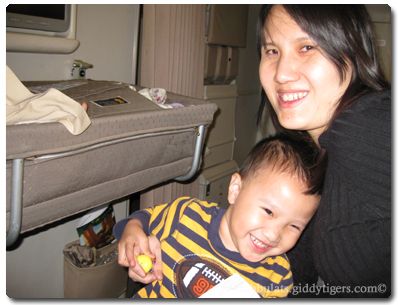 I couldn't resist this adorable photo of Hannah fast asleep in the bassinet.  When I first put her there, she did not sleep long because (I think) she felt cold.  Later on, she fell asleep in my arms and then I put her in the bassinet with her blankie.
And during our short stop in Hong Kong for refuelling, I carried Hannah around in my sling, sans stroller!  Check out her rosy cheeks, a result of being exposed to warm weather, I think.
The journey home was a lot easier than we had anticipated.  Ethan made himself busy with whatever he could find, and Hannah … well, let's just say I have mastered the art of changing soiled diapers in turbulent weather!  She's also exclusively breastfed, so no worries about bottles, powder and hot water!
Our little family is safely back home in our home in Penang now.  And trying our very best to adapt. 🙂