…was definitely a joyous occasion.
Coupled with the fact that we were away from Malaysia last Christmas and now that Ethan can talk a million words a minute, this was definitely a Christmas that did not contain a dull moment.
This year, Ethan (especially) has been looking forward to Christmas, counting down the days every day since the 20th.  He would ask us how many more days to Christmas, and we'd tell him 5, 4, 3, 2 or 1.  And in the days leading up to Christmas, he was my little helper, helping me hold the tape while I wrapped the presents, and also bringing the presents to arrange them under our Christmas tree.
And on Christmas morning, he woke up cheerfully and greeted everyone, "Merry Christmas everyone!"
We knew then that he was ready for his presents.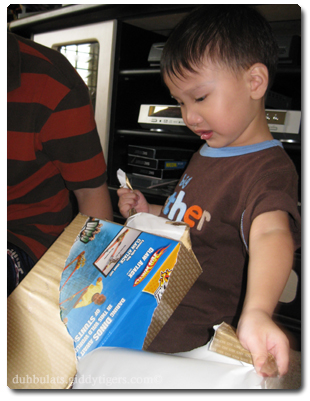 …and MORE presents!
Some "sharing" of Christmas presents amongst cousins was also apparent, especially the colorful toys.
Little Hannah, who was celebrating Christmas for the first time, decided to have a little beauty sleep of her own, and only awoke past 10a.m. (which is why she is still in her jammies).  Here she is *showing off* her blouse and jeans Ethan *got* for her.
And then much later, after she washed up and got dressed, here's my little princess, sitting pretty on her *throne*.
On Boxing Day, we celebrated baby Caitlynn's full moon.
I think Ethan was the one who enjoyed the cupcakes the most.
…at least I *thought* he looked like he was enjoying it the most! 🙂
And then when we got back to Penang, there were more presents to be opened!  Yup, we kept some at home because we knew Ethan would love opening presents everywhere!  In fact, he would readily offer his gift-unwrapping services too!
…and another one…
Just makes our day to hear him say, "Wow!!  Thanks Daddy and Mommy! I LOVE it!"
Here's the look of JOY on his face when he opened one of his presents: A Mickey Mouse KITE.
Ain't that precious?
And after that he said, "I want MORE presents, Mommy!"