This Easter, both my parents and Pete's parents together with SIL were here in Penang.  Ethan again, of course, was the prime of all attention.  On Friday, my Mom and Dad made their way to Mrs Tan's place to have a headstart playing with Ethan, while waiting for us to pick him up after work.  Ah Ma from Ipoh brought Ethan some new toys, among others a Rock-N-Stack toy, which Ethan took to immediately…. errr…. well, sorta…
We went for Japanese food for dinner on Friday with Pete's parents at Soba Yoshi, where Ethan again had the time of his life, relishing each morsel of his chawan mushi and after dinner, he went roaming around checking out the restaurant.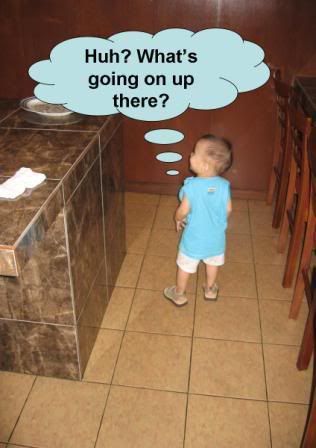 On Saturday, we all went to Gurney Plaza.  While Pete and I selected Ethan's studio picture shots for his album, Ethan busied himself (and also his Ah Mas, Ah Kongs, Ah Koh, and Ah Chek) by walking around the mall.  Certainly looks like he had a great time! 
Pete and I were spoilt for choice with the photos he'd taken just last week.  In the end, we had to choose an additional 2 more shots for the album (otherwise we would be stuck in the photo studio shop for hours!)
My Mom and Dad had to go back to Ipoh on Saturday itself, so after we dropped them off at the ferry terminal, we made our way to New World Hawker Center at Swatow Lane, where history was made: Ethan had his first taste of hawker food in the form of Wan Ton Mee.  There were no baby chairs around at all, so he had to stay put in his stroller.  He appeared to like Wan Ton Mee a lot, because he kept requesting for more. 🙂  Hehe… Wan Ton Mee lover, just like Mommy.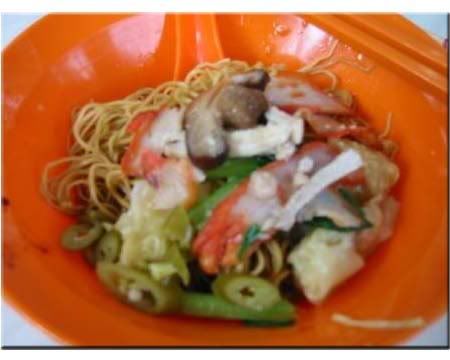 The following day was Easter Sunday, and we went to church at The Cathedral of the Holy Spirit.  It was jam packed but thankfully we managed to find a seat.  Ethan just could not sit still and insisted (rather loudly) that he wanted to walk by himself all around the church.  At the end of the church service, Pete and I were thoroughly exhausted, after chasing Ethan practically all around the church!  But Ethan was still a feisty as ever… spreading the Easter spirit to everyone!