Last weekend, Pete and I decided to make a trip to KL at the very last minute.  We had the hotel booking done in a jiffy, most of our packing done on Friday night and believe it or not, we were on our way at 10:00a.m. on Saturday morning.  That's not bad, considering we had to give Ethan his bath and feed him first before we left.
Ethan fell asleep shortly after leaving the Juru toll booth and slept for about 2 hours straight!  After we passed Ipoh, our tummies were already rumbling, so we decided to make a stop in Bidor for the famous Pun Chun wan ton mee.  I ordered char siew pau for Ethan while Pete and I ate the (very expensive and overpriced) wan ton mee (RM4.50 per plate!) Ethan of course enjoyed his char siew pau a lot and so we left Bidor shortly after.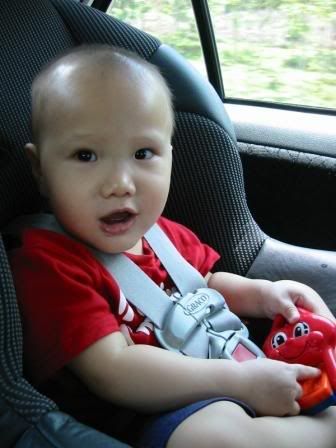 We arrived in Mutiara Damansara and checked into the Royale Bintang at about 3p.m.  Ethan was enjoying the new environment tremendously and was walking around, no holds barred, much to our amusement.  He was still VERY active when we reached our room and was opening all the cabinets and even checking out the washroom, while waiting for the housekeeping folks to bring the baby cot in.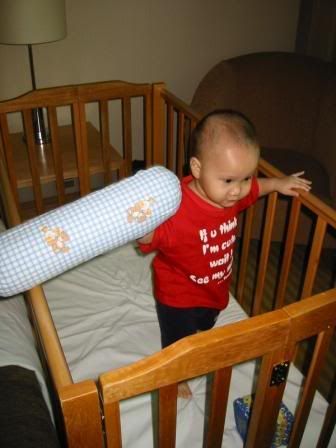 So… after a LOOOOOooooooOOOOOOng while of playing around the room, I finally was able to breastfeed Ethan, and he was knocked out almost instantly.  It began to rain too, so all three of us had a much-deserved afternoon nap.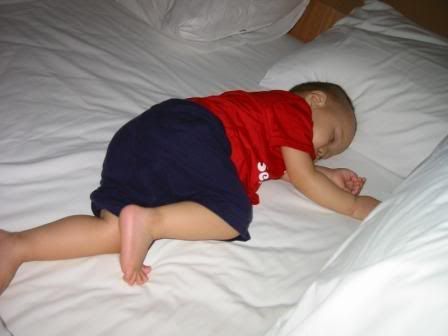 We were only awakened by a phone call from SIL who wanted to make plans to meet up for dinner.  Pete and I quickly got ready and freshened up right before our boy woke up, stretched and gave us a tired but adorable grin, that could only mean "I've slept enough…now bring on the adventure!"  We went to the hotel lobby to have our welcome fruit punch (which was quite good, really!) and then hopped over to Mothercare for some…urrmmm….light shopping.  Ethan was the total picture of happiness as he smiled happily when he saw the many many escalators at The Curve.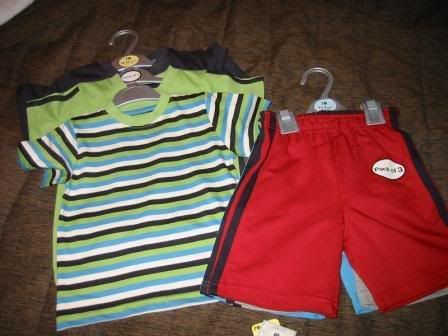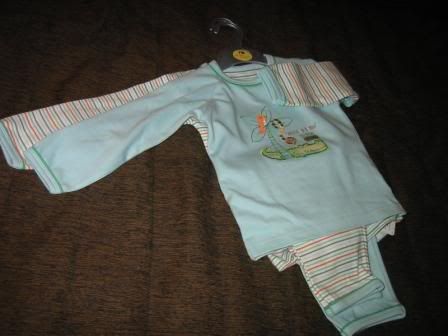 We had a lavish dinner at Italiannies, an astounding Italian restaurant at The Curve.  I shared some of my Classic Fettucine Carbonara with Ethan, who really enjoyed the pasta to bits.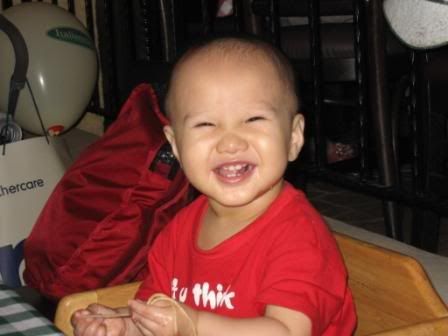 Us adults stuffed ourselves silly with all the fattenning delicious Italian food, including meatball spaghetti, deep-fried calamari and grilled salmon.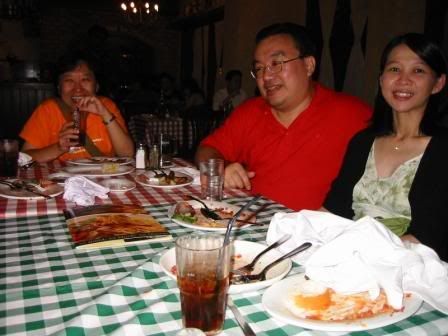 And if that wasn't enough we had dessert at New Zealand Ice Cream.  I ordered the yogurt sundae which was fat-free and sugar-free (somewhat).  I gave a few spoonfuls to Ethan (it was his first taste of ice cream) and strangely enough, he showed a really sour face!  That being said, he kept coming back for more…
The next morning, we had our buffet breakfast at the hotel and then went to Ikano Power Center for some quick look-see and shopping.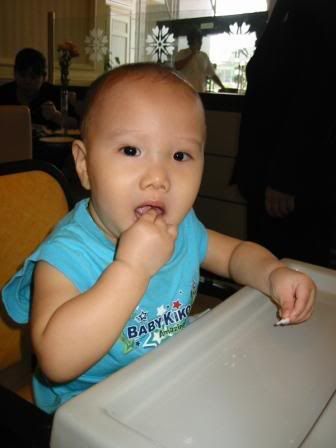 We went back to the hotel, gave Ethan his bath, then met SIL for lunch and then we were on our way back to Penang.  Ethan slept for about 2 hours again on the way back.  We are so very proud of him for behaving himself all through the journey.  Travelling with Ethan is much easier now that he is bigger, since he can take almost everything we eat.  Also, giving him a bath is a breeze since he can just stand in the shower stall and allow us to shower him down!
This means we can plan more trips outstation from now on 🙂