The third day of our Singapore trip itinerary was initially planned as a half-day shopping experience in Orchard Road followed by a visit to the Singapore Night Safari at night.  However, because we were tired out after our zoo adventure, we decided to forgo the Night Safari for now, because of the distance we had to travel and also because of …. ahem…. slight fatigue. 😛  Well actually the main reason was because we felt our Ethan Boy would be uncomfortable travelling that long distance at night, especially since we anticipated that we would leave the night safari at about 11pm, at the very earliest.
So Day 3 was to be a *rather* relaxing day for us.  Or so we thought….
After breakfast, we took the MRT to the Orchard Rd station.  Ethan was beginning to get used to the MRT now and was not as fidgety as before.  In Singapore, we were offered seats on the MRT almost immediately upon entering the subway because we had Ethan along.  And I was very impressed by this.  Ethan however preferred to be carried by Pete while standing.  Here he is, *in action*…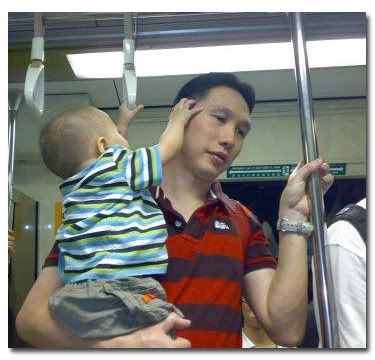 It only took us less than 20 minutes to arrive in Orchard Rd despite having to switch MRT lines at Dhoby Gaut.  We walked around Wisma Atria for a while before meeting Aunty Susan and Uncle Edward there.  It had been a while since they had seen Ethan and so they were amazed at how much he had grown.  They brought us to Newton Food Center where we tarpowed lunch consisting of Singapore Laksa, Duck Rice and a supposedly popular Singaporean dessert called tau-swan.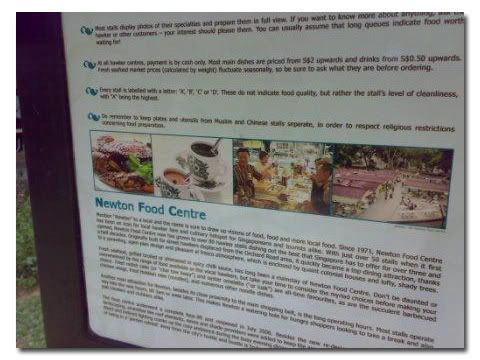 I later learnt that tau-swan is made from the green beans used to make ang-koo, and is cooked in sweet syrup and served with ewe-char-koay.  Oh yes, it is as yummy as it sounds.  We had our packed lunch at Uncle Edward's son's house, where we got to say hi to Christina and her 6-month-old son Lucas.  I didn't manage to take any photos because I was so hungry!
Well, Ethan made himself comfy in Christina's house almost immediately.  He had fallen asleep when we arrived so I put him in a toddler chair, which was something like the one he had.  And when he woke up and had had lunch, he discovered that there were many similar toys in the house that he was accustomed to.  Of course he had to climb the stairs as well – how could he miss that!
Uncle Edward then dropped us off at Paragon Shopping Mall in Orchard Rd after lunch, where we hung out and walked around, navigating the surrounding malls, like Tangs and Takashimaya.  It was hard work with Ethan insisting every now and then that he wanted a ride on the escalators or just to roam around, but thankfully we managed!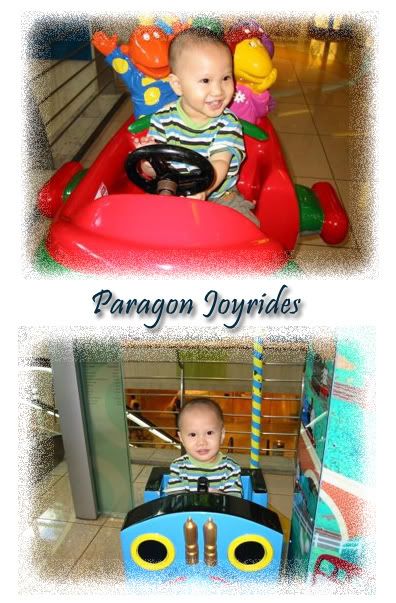 I had a chance to check out the breastfeeding facilities too.  The nursing room in Paragon was okay, but was nothing compared to the one in Takashimaya.  In Takashimaya, the nursing room consisted of 7-8 changing stations, 2 high chairs for feeding, hot water, a sink and a separate breastfeeding room where men were strictly NOT allowed.  Of course, there was a comfortable waiting couch prepared for the daddies too 🙂
Finally it was time for dinner and we settled on a cosy restaurant in the Food Cellar in Paragon called My Mum's Cuisine, which served tasty food that tasted like homecooked food.  We ordered Assam Fish (Siakap fish deep fried and delectably prepared with tamarind sauce), Oyster Omelette and Spinach with Mushrooms.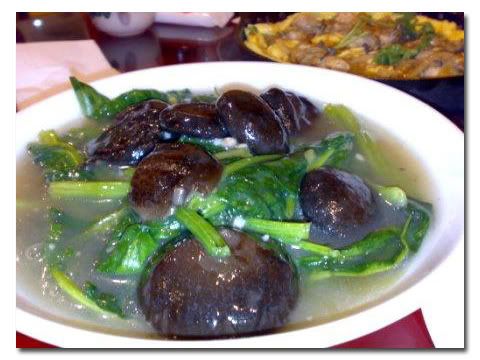 And Ethan enjoyed every bit of it.  Yup, amazingly, even the sourish tasting fish.  In fact, I think he finished about half a bowl of rice that night!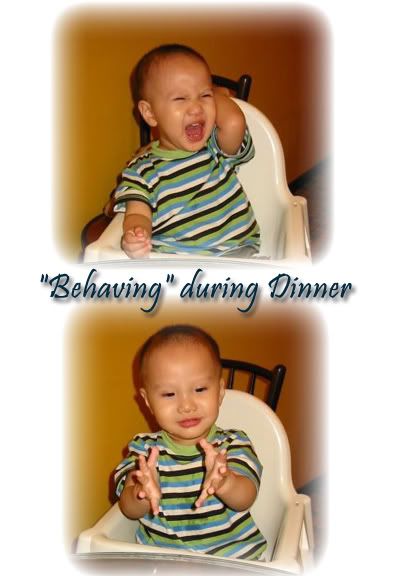 On the way back to the MRT we stumbled on a beautiful aquarium in Wisma Atria.  Ethan got all excited again and looked eagerly at the fishies swimming around.  Boy was he gonna love the Underwaterworld!  Maybe this could serve as a preview for the adventure the following day? *wink*
So our shopping day in Orchard ended on a definite high.  We didn't shop till we dropped, but we certainly had tons of fun!  And oh by the way, Mommy also managed to squeeze in a quick purchase at Forever 21, just in the nick of time! 🙂