You didn't think we'd leave California Adventure Park out of the vacation while we were there, did you?  Well, we didn't!
We had gotten ourselves 3-day park hopper tickets and Day 2 saw us make our way to California Adventure Park.  The queues to get in were unbelievably long and following Murphy's Law, our line was the slowest-moving of the lot!  We also arrived somewhat later than the first day, though….haha.
Our first stop was at the newest section of the park: Cars Land.  I had been to California Adventure Park twice before, but this is the first time I stepped foot in Cars Land!
Modeled after the hit movie Cars, this was Radiator Springs in the flesh!!  How awesome is that!?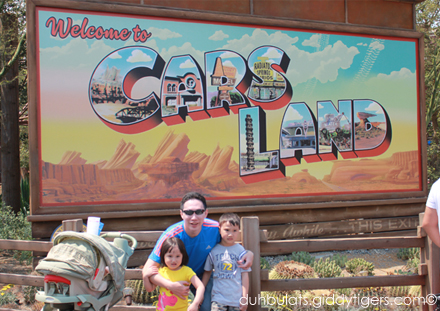 Can you just tell that the kids were getting so impatient to get moving into Cars Land?
Ethan and Hannah had wanted to get on the Radiator Springs Racers ride where they would ride in cars around a race track, like what you see in the movie Cars.  Unfortunately, the Fast Pass for this ever-so-popular ride was all taken up for the day, and the wait time was like 2 hours!  So Ethan was contented with just a picture (for now).