You are currently browsing the monthly archive for March 2014.

Scrap Credits
Happy Birthday Mini QP from Delicious Scraps
Beauty Sleep Alphas from Laurie's Scraps
Weight
Actually I think she weighs only about 7.2-7.5kilos, based on our roughly accurate measurement of carrying her on the scale.  A little below the average weight but I'm sure she'll catch up soon.
Height/Length
Not measured.
Teeth
4 teeth: 2 bottom incisors and 2 upper incisors.  Other incisors (top and bottom) coming out soon too.
Motor Skills
Emma can sometimes stand unsupported for a few seconds before sitting or squatting down.  Sometimes it is accompanied by w cute "sigh".
Continues with cruising around especially at the couch area.  She tries to walk but is a little hindered by her sleep-n-plays, which she has to wear due to her eczema.
Quite a strong and advanced grip and pincer's grip, and she is very good at grabbing stuff (cups we hold, food we hold, straws), and also, lately she has been dubbed "The Ant Killer", because of her ability to "hunt down" ants on the floor and press and kill them.  Which means we have to wash her hands every so often too!
Loves to wave her hands around.
Communication and Social Skills
Says "Baba" and waves her hand usually when we say "Buh bye".
Calls "Dedeh" sometimes.
Understands the meaning of "Stop".  When I say "Stop", she will stop whatever she is doing, e.g. crawling, touching something, splashing water.
Getting more accustomed to Daddy being around her.
Others
Not sleeping through yet.  SIGH. I suspect it could be due to the heat!  Her sleeping time is sometimes out of sync with mine too, resulting in Mommy the Zombie days.
Her skin is still pretty dry, so there is still some scratching, but hopefully it will get better soon.
Food and Feeding
Her diet is mostly 100% on Mommy's milk, and she does drink some water (either from a regular cup or from a sippy cup), owing to her slight intake in solids.  She's not taken a keen interest in drinking from a straw yet though.
We've noticed that Emma seems to prefer fruits and veggies to meats; could this be a vegan in the making?
Some of the foods she has tried this month:
Spinach
Buckwheat
Oats
Egg Yolk (which she absolutely loves)
Garlic (mixed in to flavor her food)
A leetle bit of olive oil
Carrot noodles (She loves this too, and eats it with her hands)
Last weekend, we had a small family event to celebrate Emma turning one.  Can't believe it has already been a year since she was born!
We decided to invite our guests to a lunch buffet at Sarkies in the Eastern & Oriental Hotel, so that meant I would only need to work on the birthday cake.
I'd been researching possibilities for a cake for baby Emma, but only decided after I finished baking Hannah's cake.  Daddy suggested a cake in the shape of Mommy since Emma is totally attached to me, but I could not bring myself to make such a cake.  In the end, I decided on this adorable cake which had piqued my interest.
It's a … Cute as a Button Cake! …for a little baby who is as cute as a button
I had so much fun making this cake, especially crafting those cute lil' buttons!
Emma enjoyed some fruits from the fabulous buffet spread.
She enjoyed being carried around, and thankfully, she was rather okay with other guests at the party, giving me a little bit of time to fill my tummy.
There was also evidence of trying to tempt Emma with pretty purses! 😛
After a hiatus of about 3 months, Ethan's soccer training finally resumed at a new location, nearer to where we live.  Ethan was thrilled of course, and was looking forward to the commencement of the session.  However Hannah also expressed an interest to participate in the training.  The facilitator said she could come and try to see if she likes it, so yesterday was the first session.
Daddy was hesitant too, about Hannah's participation…Hannah being a "princess" and all, but we decided to let her have a go at it, at least for the first time.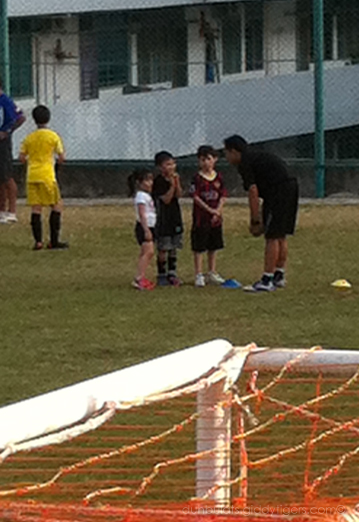 She seemed to enjoy the session yesterday because there weren't many kids then.  She "scored" a few goals herself too, and the senior coach commented that she was rather good.
We'll see how it goes this Friday.  There's another session coming up and she says she wants to go again. 😀
(Sorry about the blurred photo – I took them using my phone from quite a distance away)
He did it with style just a couple of days ago, when we were at AdventureZone with some of the kids' cousins.  Years ago, when he first visited AdventureZone, Ethan would only get on the Rainbow Slide, the least intimidating of the three.  Sometimes he would attempt the blue one, but most of the time he will only stick to the Rainbow Slide.
Then last month, when we were there, he went down the Blue Slide (Double Drop Slide), which leads straight into a pool of balls.  He shied away from the (very scary) Demon Drop Slide (red one), which is a 24ft vertical drop!  Very very scary…trust me.
This time though, he said he would go on the red Demon Drop Slide and he really did.  He conquered his fears and even went on the higher of the two options for the Demon Drop Slide.
Bravo Ethan…I'm very proud of you!
Two days before her actual birthday on March 2nd, we had a little birthday celebration for Hannah in school with her classmates.  As was always the case pre-birthday, Hannah was rather undecided on what kind of cake she'd wanted.  I would say she changed her mind almost every month leading to her birthday, so when she told me she finally decided, I had to ask her a few times to really confirm it.
Here's my birthday girl with her Sofia the First inspired dress and tiara cake.  She chose the design herself after looking through tons of ideas on Pinterest.
The entire cake is edible, even the fondant and gumpaste tiara, but I had to make some last minute modifications because errr….. there was a slight cake decoration mishap.  But my little girl was happy nonetheless…
 I had tremendous fun baking and decorating this cake too, the highlights being the tiara and the floral designs on the skirt.  Not bad an effort for my first two-tier cake
I even painted an airbrush glimmer sheen on the tiara to make it sparkle!