Hannah's school's Family Fun Day is an annual affair celebrating Mother's, Father's and Teacher's Day, and this year was no different.  So last Sunday we got up bright and early and made our way to Occupy at Beach Street, an area which is cordoned off from motor vehicles every Sunday morning as part of Penang's Smoke-free campaign.  Believe it or not, it was our first time there, and it was also the venue for the Family Fun Day.
We all had on identical t-shirts, with the exception of Emma of course.  We parked a little ways off the site of the event, so we had to walk together with a bicycle and a scooter too…not to mention a baby in a stroller!  We then quickly registered, grabbed our Subway breakfasts, and dove right into the hustle and bustle of all the activities.
We did trishaw rides…
We had fun on bicycles built for two:
While Ethan's legs were long enough to pedal on the bikes, Hannah had to leave her legs up, and let Daddy do the pedalling:
There were traditional games, like this one..I think it's called Flying Feather…
… and vainpot activities like Face Painting: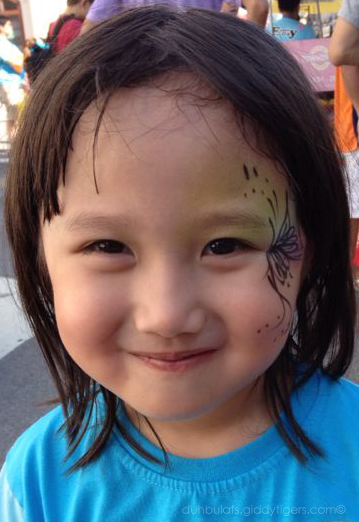 Fun with sidewalk chalk!  This was the boys' creative contribution:
…and this was the selfie we took for Ethan and Hannah as part of the task list for the Treasure Hunt competition:
Coincidentally we won a prize for that competition!
It was a fun-filled day, albeit a scorchingly hot one, but definitely a great day to spend Sunday morning!