Just over a week ago, Hannah and I were selected and invited to attend a MasterChef Junior Cooking Workshop inspired by the recent MasterChef Junior series on television.  Those of you who saw my Instagram picture might have thought that this was a competition, but on the contrary, it was just a cooking workshop, held mainly to encourage and foster a special bonding time between parent and child.
The cooking workshop was held at the Cooking School in Tropical Spice Garden, and that morning, since Emma decided to sleep in, Hannah and I drove to the venue first; and Daddy took Ethan and Emma a little bit later on.
Hannah, of course, was very excited about the whole thing, and was even more pleased when she was given her very own MasterChef apron to wear!  Mommy got a matching apron too…yay me! 😀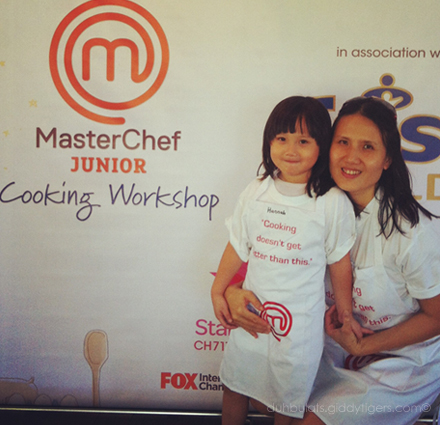 Together, Hannah and I made 3 simple dishes: Apple Crumble, Baked Chicken Leg and Coleslaw.  Hannah did most of the cooking except for using the knife and the stove.  The recipes were fairly simple but quite tasty.  I would make them again.
We had a lovely time that day, and we hope to be a part of more cooking workshops to come! 🙂
Just for fun now…here's a shot of Ethan in front of the lunch buffet spread we had.  This photo was taken while waiting for Hannah and Mommy to finish our cooking workshop: