Our second day in Singapore promised tons of excitement because today was Zoo Day!! The Singapore Zoo is hailed to be one of the most beautiful zoos in the world, rivaling even the San Diego Zoo, which I didn't get to visit the last time I was there. So we were all pretty hyped up about the adventure that awaited us.
After breakfast we walked to the Little India MRT station armed with a trusted map and some zoo brochures, and took the subway to the next stop: Dhoby Gaut. From there we got off and switched MRT lines and boarded the one headed towards Ang Mo Kio. The entire MRT journey took us a mere 20 minutes, but Ethan was restless and uncomfortable throughout. He was especially distressed when the subway went into the dark tunnels, and although only the exterior was dark and the interior of the MRT had lights on, he still continued crying. But as soon as the train hit sunshine, he perked up, open his big brown eyes, looked at us and said "ooooh…ohhh….oooo…eggya???" (whatever that means :p ). Well, we just nodded along to whatever he said … kekeke. Upon reaching the Ang Mo Kio MRT station, we took a bus direct to the zoo. The bus ride was approximately 30 minutes, and you guessed it, Ethan could not sit still either.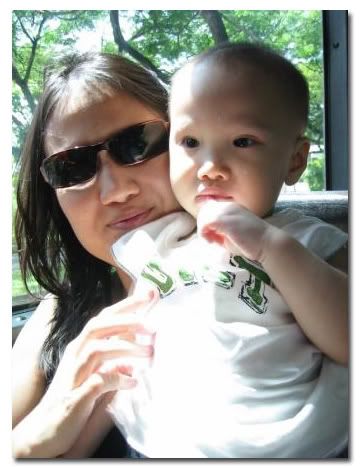 The Singapore Zoo is based on an open concept where the animals are not enclosed in cages but rather kept in spacious and beautifully landscaped enclosures. Of course the animal areas are separated from the visitors by either a fence, a moat or in some cases, glass. We only had to get two tickets because Ethan got to enjoy free admission into the zoo 🙂 In fact, throughout our Singapore trip, we didn't need to pay any admission fee for Ethan at all. We only paid 10% for his flight ticket. And because we utilized our SIA Boarding Pass Priviliges, we also got the unlimited Zoo Tram Rides thrown in for free!
We were all immediately enthralled by the animals that we saw in the zoo.
There were flamingos, polar bears, kangaroos, giraffes, and of course, the orang utans.  And Ethan was fascinated with ALL of them.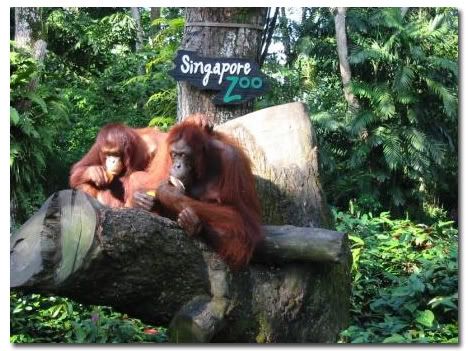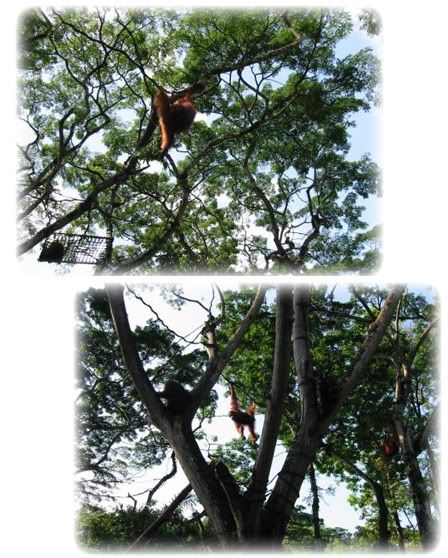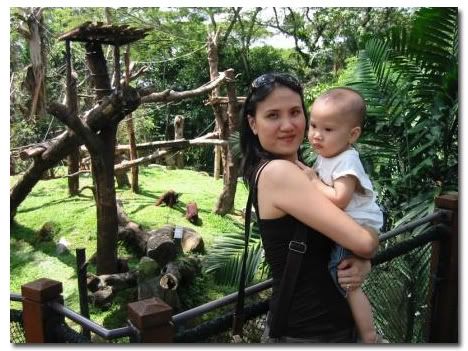 We also managed to attend several shows that were held in the zoo. The first one we attended was the Wonders of The Wild Show in The Shaw Foundation Amphitheatre, where we got to see the very strong orang utan, a huge python and an *orang asli* wannabe showing off his hunting skills.
During the show Ethan demonstrated another one of his latest milestones: clapping along with people. Nowadays, whenever he sees someone, anyone, clapping, he will clap along, accompanying it with the widest grin ever, showing off his 8 teeth! Before we left for Singapore, he did it in church too and I have noticed that he also does it when he sees people clapping on the telly. So you betcha we had a good time!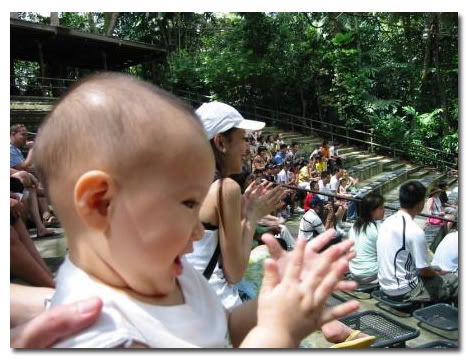 I was a little bit worried that Ethan was not getting enough to eat, because he was still recovering from his sore throat at that time and when we had lunch at the Jungle Tandoor cafe (rice with butter chicken), he wasn't very interested in the food too. Soon I could sense that Ethan was getting hungry and was craving for milk. I was all ready to breastfeed him and it was really the most sensible thing to do, instead of making up a feed of formula, since we were in the zoo and all! I went all over to look for a nursing room, but was sorely disappointed that there were NONE! For a zoo of this magnitude, not having a nursing room or area is definitely something to be frowned upon, especially since most visitors would spend the entire day there! So we tried to distract Ethan by going to see the polar bears, and a few meters after that, by the grace of God, we discovered a beautiful shed overlooking the sea. It wasn't really secluded, but it was shady and cool and it would have to do for nursing.  God heard our call and pointed us to this spot.  So I breastfed Ethan then and there 🙂
Ethan fell asleep very soon after, and while carrying him, we rushed to Splash Safari Show.
Would you believe it, Ethan slept soundly throughout the entire performance?!
I had half expected him to suddenly rouse from his sleep and start clapping, but he was the perfect picture of an angel asleep. We took the tram for a short ride around the zoo and then visited the Australian animals with Ethan fast asleep still.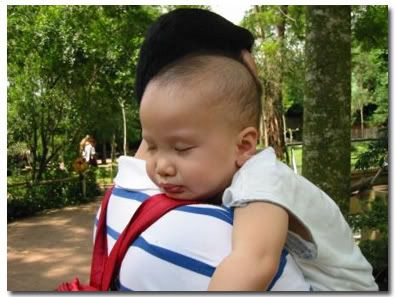 We then walked towards our next stop: The Elephants at Work and Play show.
By the way Ethan was still asleep when we got there but suddenly woke up, looking very rejuvenated indeed. He enjoyed the elephant show and although it started raining halfway through the show, our spirits were certainly not dampened one single bit. Nope, especially not Ethan's because after the show, he began climbing up and down the stairs, oblivious to the pouring rain.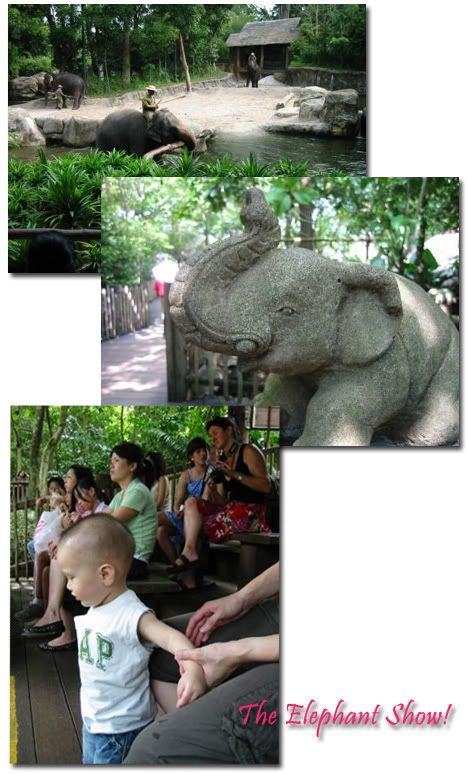 We left the area soon after and visited a few other spots (including taking the tram ride to the Animal Friends show),…..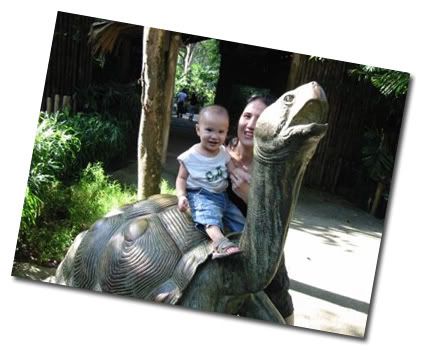 and wowed at the beautiful white tigers.
Soon it was time to bid a fond farewell to the zoo animals.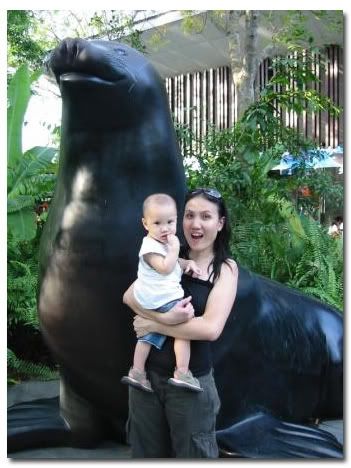 We took our final shots with the camera, bought some souvenirs and then waited for the bus to arrive. Ethan was already very restless and looked very hungry. It was after all, already dinnertime then.  So when the bus finally arrived, Pete and I decided to have dinner at the bus station itself when we reached Ang Mo Kio. We had a quick dinner at the food court there and after dinner, we spotted the Yogurt Place.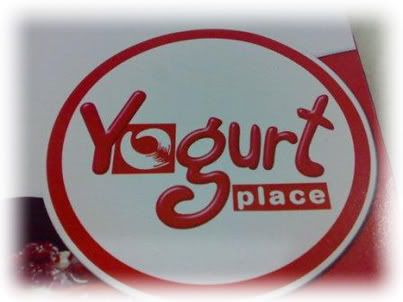 There was a "Buy 1 Free 1" promotion going on, and we bought ourselves some yogurt, which all three of us enjoyed immensely.  I tell you, it was possibly the best yogurt I had ever tasted in my entire life!  And I am pretty sure Ethan agrees with me too! 
We took the MRT back to Little India and then it was back to the hotel. Ethan must have been very tired too, because that lil fella knocked out at 9:45p.m., after his shower, considerably early for his standards.